How to Start a Grocery Store
Grocery stores, also known as supermarkets, are a crucial part of Indian society selling various food and household items. They come in different forms, offering personalised service and a range of products from fresh produce to household essentials.
The grocery business has evolved to offer online ordering and home delivery, making grocery shopping more convenient. To thrive in the market, grocery store owners should consider investing in billing software for grocery stores or supermarket billing softwares.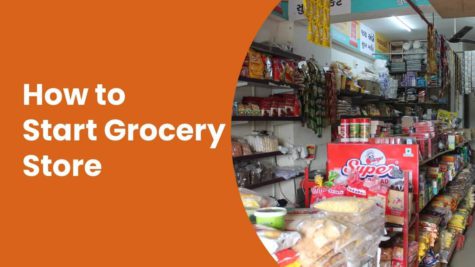 Why Should You Start a Grocery Store?
If you are bothered about how to start a grocery store in India is a promising business opportunity due for the following reasons:
High demand for food creates opportunities for grocery stores.
The grocery industry is one of the largest markets with low entry barriers.
Versatile business options with the ability to specialise or offer a range of products.
Potential for growth and expansion with new products and locations.
Ability to create jobs and impact the local economy.
Independence as a business owner with control over decisions.
Things to do to Start a Grocery Store
Before starting a grocery store, consider the following:
Get GST Registration to obtain a 15-digit GST number for your business.
Obtain Food license, entity registration, shop, and establishment registration to fulfil legal formalities.
Choose a prime location in a busy area or central town.
Make your store attractive and convenient for customers.
Know your customers' preferences and market size to set product prices and offerings.
Check your competition and stand out with good service and convenience.
Find good vendors to balance your inventory.
Set a competitive price for products with a markup of 33% to 67% or a margin of 25% to 40%.
Hire sales staff who are well-trained and motivated, if needed.
Sell products online via an online store or online marketplace.
Advertise through word-of-mouth and appropriate mediums.
Go digital with business accounting software to manage inventory and accounting.
The points mentioned above would be your guide on how to open a supermarket.
Why You Need Billing & Accounting Software for Your Grocery Store:
A billing and accounting software like myBillBook is essential for grocery store success by providing the following benefits:
Streamlines financial management
Automates invoicing and payments
Facilitates inventory control
Provides real-time sales and financial reports
Enhances efficiency and reduces errors.
FAQs about How to Start Grocery Store
What is the cost of starting a grocery store in India?
The cost of starting a grocery store in India varies depending on the location, size, and product offerings. But, on average, it can range from INR 2-5 lakhs.
How much space is needed to start a grocery store?
The space required to start a grocery store depends on the product offerings and the size of the store. On average, a small grocery store may need 300-500 square feet, while a giant supermarket may require 2,000-5,000 square feet.
How can I attract customers to my grocery store?
You can attract customers to your grocery store using effective marketing strategies, including launching advertising campaigns, offering promotions and discounts, providing excellent customer service, and building brand awareness through social media and community engagement.
How can I manage inventory in my grocery store?
You can manage inventory in your grocery store by using a point of sale (POS) system that tracks sales and helps manage stock levels.
How important is customer service for a grocery store?
Providing excellent customer service, such as offering personalised recommendations, responding promptly to customer queries and complaints, and maintaining a clean and well-stocked store, can help build a loyal customer base and drive growth for your business.
Know more about Business Ideas