Tiles Quotation Format
Whether you're a tile supplier, contractor, or tile shop owner, providing a clear and professional tiles quotation format is essential for winning clients and ensuring smooth transactions. A well-crafted tiles quotation format not only simplifies the business process but also reflects professionalism and transparency. Whether you choose to create your tiles quotation format in Word, Excel, or PDF or opt for specialised software like myBillBook, the key is to provide clients with clear, concise, and accurate information. This page takes you through different methods of generating tiles quotations, helping you decide wisely when choosing the right tool.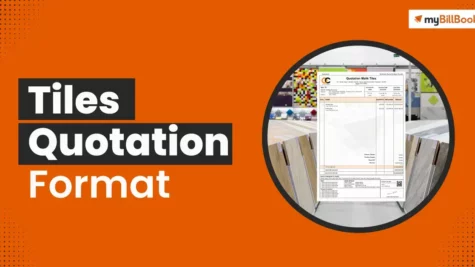 What is a Tiles Quotation Format?
Tiles quotation format is a structured document used in the construction and tile industry to provide detailed information about the cost and specifications of tiles and related services. It serves as an official offer from a tile supplier or contractor to a client, outlining the pricing, quantities, 00and terms of the tile products and services to be provided. This format helps both parties understand the work scope and associated expenses. A well-structured flooring tiles quotation format allows transparency and informed decision-making.
Key Elements to Include in a Tiles Quotation Format
Header

: The header should display your company's name, logo, and contact information. It is essential to establish your identity and make it easy for clients to reach you.
Client Information

: Include the client's name, address, contact details, and any specific reference numbers or project names they've provided.
Quotation Number and Date

: Assign a unique quotation number and include the date of issuance. This helps in tracking and record-keeping.
Itemised List of Tiles

: List the types, sizes, and quantities required. Mention any specific tile brands or models if applicable.
Description of Services

: If you're offering installation services along with tile supply, detail the scope of work, including labour costs and timelines.
Unit Prices and Total Costs:

 Mention the price per unit (e.g., per square foot or per box) for each type of tile. Calculate the total cost for each item and provide a subtotal.
Taxes and Additional Charges

: Include applicable taxes, delivery charges, or any other fees the client must know about.
Payment Terms

: Clearly state your payment terms, such as the percentage of the total amount to be paid as an advance, milestones for payments, and the due date.
Validity Period

: Specify how long the quotation is valid. This ensures that the client knows the timeframe within which they need to make a decision.
Terms and Conditions: Outline any terms and conditions related to refunds, returns, warranties, or other relevant policies.
Tiles Quotation Format in Word, Excel, and PDF
Creating a flooring tiles quotation format is made easier with the help of digital tools. Here's how you can use popular formats:
Tiles Quotation Format in Word

: Microsoft Word provides a user-friendly interface for creating and customising quotation templates. You can use tables and formatting options to structure your

quotation format in Word

.

Tiles Quotation Format in Excel

: Excel is ideal for creating itemised lists and performing calculations. You can create a detailed

quotation format in Excel

with formulas automatically calculating totals and taxes.

Tiles Quotation Format in PDF

: Once you've created your quotation in Word or Excel, you can save it as a PDF for easy sharing. PDFs ensure that your quotation looks consistent across different devices and platforms.
Limited automation, formatting challenges, difficulty tracking changes, risk of data loss, limited or no scalability, etc., are some drawbacks of using Word and Excel to create quotation formats. 
Using myBillBook to Create Tiles Quotation Formats
For an even more streamlined experience, consider using dedicated invoicing and billing software like myBillBook. myBillBook offers pre-designed templates, automatic calculations, and the ability to customise your quotation with your company branding.
Using myBillBook to create tiles quotations offers several benefits for businesses in the tile industry. Here are some key advantages:
Professional Quotation Templates

: myBillBook provides professionally

designed templates

specifically tailored for creating tiles quotations. These templates give your quotations a polished and organised appearance, leaving a positive impression on your clients.

Customisation

:

Customise your tiles quotations

to match your brand identity. Add your company logo, contact information, and any other relevant branding elements to create a consistent and professional image.

Accessibility

: Access your quotation data from anywhere with an internet connection. This means you can create, edit, or send quotations on-the-go, making it convenient for both you and your clients.

Easy Tracking

: myBillBook helps you maintain a systematic record of all your tiles quotations in one place. myBillBook is typically accessible on various devices, including smartphones and tablets. This simplifies tracking and retrieval of past quotations, making it easier to follow up with clients.

Easy Sharing

: Send quotations directly to your clients via email or other digital channels. You can also generate PDF versions for easy sharing, printing, or archiving.

Cost-Effective

: myBillBook offer cost-effective plans and pricing options tailored to your business's needs. This can help you save on software expenses while still benefiting from its features.
myBillBook simplifies and streamlines the process of creating tiles quotations, making it more efficient, accurate, and professional. It offers customisation options and convenience that can enhance your business operations and customer interactions.
FAQs on Tiles Quotation Format
Can I add additional charges to the quotation using myBillBook?
You can add taxes, delivery charges, or any other applicable fees to the quotation using myBillBook.
Can I convert a tile quotation into an invoice with slight changes on myBillBook?
Yes, myBillBook offers a unique feature of converting your quotations into invoices in a single click.
Can I save and reuse templates for different types of tile quotations?
Yes, myBillBook allows you to create and save templates for different types of tile quotations. This feature streamlines the quotation process, making it easy to generate quotes for various projects or clients.
How can I send the generated quotations to my clients?
myBillBook offers options for email delivery or generating a downloadable PDF version that you can share via email or print for physical distribution. You can also share the tile quotation on Whatsapp.
Is there a backup feature to prevent data loss in case of technical issues?
myBillBook offers data backup and recovery features. Your data is securely stored, and you can often retrieve it in case of technical issues or accidental data loss, ensuring the safety of your quotations and client information.
Know more about other Billing Formats