NIC Codes by MCA
The Ministry of Corporate Affairs (MCA) has selected a specific number of NIC Codes (National Industrial Classification Code) and published a list of Industrial Activity Codes and Business/Profession Codes. These codes consist of two digits and signify the primary segments within the NIC Classification. 
The Industrial Activity Codes and Business/Profession Codes are required by companies and limited liability partnerships (LLPs) during business registration. Further, for companies, the selected  Industrial Activity Code becomes part of the Corporate Identification Number (CIN). This code cannot be amended after the registration of the Company.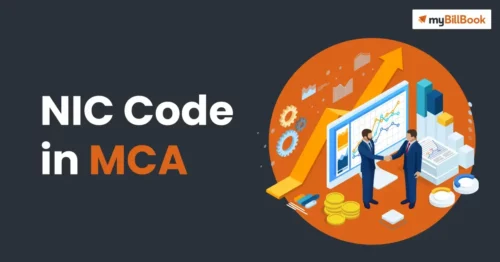 Download myBillBook to Generate Bills
NIC Codes for MSMEs
The updated NIC 2008 introduces a modern industrial classification framework. Activities of the companies are initially organised into 'Sections' labelled alphabetically from A to U. Each section is further segmented into 'Divisions,' identified by a two-digit numerical code. Divisions are then broken down into 'Groups,' distinguished by a three-digit numerical code. Within each group, there are 'Classes' marked by a four-digit numerical code, and finally, each four-digit class is further divided into a five-digit 'Subclass.'
Applicants should utilise these NIC codes for MSMEs when submitting their business registration applications. Below is the updated NIC code list for your reference.
List of NIC Codes by MCA – Industrial Activity Code
Activity/Code

Categories

Business Description

Activity Code 01

Agriculture and Allied Activities

Agriculture, Hunting and related Service activities

Activity Code 02

Forestry, logging and related Service activities

Activity Code 05

Fishing, Operation of fish hatcheries and fish farms; Service activities incidental to fishing

Activity Code 10

Mining & Quarrying

Mining of coal and lignite, extraction of peat

Activity Code 11

Extraction of crude petroleum and natural gas, service activities incidental to oil and gas extraction, excluding surveying

Activity Code 12

Mining of uranium and thorium ores

Activity Code 13

Mining of metal ores

Activity Code 14

Other Mining and Quarrying

Activity Code 15

Manufacturing (Food stuffs)

Manufacture of food products and beverages

Activity Code 16

Manufacture of tobacco products

Activity Code 17

Manufacturing (Textiles)

Manufacture of textiles

Activity Code 18

Manufacture of wearing apparel, dressing and dyeing of fur

Activity Code 19

Manufacturing (Leather & products thereof)

Tanning and dressing of leather, manufacture of luggage handbags, saddlery & harness and footwear

Activity Code 20

Manufacturing (Wood Products)

Manufacture of wood and wood products and cork, except furniture; manufacture of articles of straw and plating materials

Activity Code 21

Manufacturing (Paper& Paper

Manufacture of paper and paper products

Activity Code 22

Publishing, printing and reproduction of recorded media

Publishing, printing and reproduction of recorded media

Activity Code 23

Manufacturing (Metals & Chemicals, and products thereof)

Manufacture of coke, refined petroleum products and nuclear fuel

Activity Code 24

Manufacture of chemicals and chemical products

Activity Code 25

Manufacture of rubber and plastic products

Activity Code 26

Manufacture of other non-metallic mineral products

Activity Code 27

Manufacture of basic metals

Activity Code 28

Manufacture of fabricated metal products, except machinery and equipments

Activity Code 29

Manufacturing (Machinery & Equipments)

Manufacture of machinery and equipment n.e.c

Activity Code 30

Manufacture of office, accounting and computing machinery

Activity Code 31

Manufacture of electrical machinery and apparatus n.e.c

Activity Code 32

Manufacture of radio, television and communication equipment and apparatus

Activity Code 33

Manufacture of medical, precision and optical instruments, watches and clocks

Activity Code 34

Manufacture of motor vehicles, trailers and semi-trailers

Activity Code 35

Manufacture of other transport equipment

Activity Code 36

Manufacturing (Others)

Manufacture of furniture; manufacturing n.e.c

Activity Code 37

Recycling

Activity Code 40

Electricity, Gas & Water companies

Electricity, gas, steam and hot water supply

Activity Code 41

Collection, purification and distribution of water

Activity Code 45

Construction

Construction

Activity Code 50

Trading

Sale, maintenance and repair of motor vehicles and motorcycles; retail sale of automotive fuel

Activity Code 51

Wholesale trade and commission trade, except of motor vehicles and motorcycles

Activity Code 52

Retail trade, except of motor vehicles and motorcycles, repair of personal and household goods

Activity Code 55

Hotels and Restaurants

Activity Code 60

Transport, storage and Communications

Land transport; transport via pipelines

Activity Code 61

Water Transport

Activity Code 62

Air Transport

Activity Code 63

Supporting and auxiliary transport activities, activities of travel agencies

Activity Code 64

Post and telecommunications

Activity Code 65

Finance, Insurance

Financial intermediation, except insurance and pension funding

Activity Code 66

Insurance and pension funding, except compulsory social security

Activity Code 67

Activities auxiliary to financial intermediation

Activity Code 70

Real Estate and Renting

Real estate activities

Activity Code 71

Renting of machinery and equipment without operator and of personal and household goods

Activity Code 72

Business Services

Computer and related activities

Activity Code 73

Research and Development

Research and Development

Activity Code 74

Other Business Activities

Other Business Activities

Activity Code 75

Community, personal & Social Services

Public Administration and Defence, compulsory social security

Activity Code 80

Education

Activity Code 85

Health and Social Work

Activity Code 90

Sewage and refuse disposal, sanitation and similar activities

Activity Code 91

Activities of membership organisations n.e.c.

Activity Code 92

Recreational, cultural and sporting activities

Activity Code 93

Other Service activities

Activity Code 95

Activities of private households as employers of domestic staff

Activity Code 96

Undifferentiated goods-producing activities of private households for own use

Activity Code 97

Undifferentiated service-producing activities of private households for own use

Activity Code 99

Extra-territorial organisations and bodies
Business/Profession Codes by MCA
| | |
| --- | --- |
| Code | Business/ Profession |
| Business Code 01 | Medical Profession and Business |
| Business Code 02 | Engineering |
| Business Code 03 | Architecture |
| Business Code 04 | Chartered Accountant/Accountancy Technical Consultancy |
| Business Code 05 | Interior Decoration |
| Business Code 06 | Technical Consultancy |
| Business Code 07 | Company Secretary |
| Business Code 08 | Legal Practitioner and Solicitors |
| Business Code 09 | Government Contractors |
| Business Code 10 | Insurance Agency |
| Business Code 11 | Films, TV and such other entertainment |
| Business Code 12 | Information Technology |
| Business Code 13 | Builders and Developers |
| Business Code 14 | Members of Stock Exchange, Share Brokers and Sub-Brokers |
| Business Code 15 | Performing Arts and Yatra |
| Business Code 16 | Operation of Ships, Hovercraft, Aircrafts or Helicopters |
| Business Code 17 | Plying Taxis, Lorries, Trucks, Buses or other Commercial Vehicles |
| Business Code 18 | Ownership of Horses or Jockeys |
| Business Code 19 | Cinema Halls and Other Theatres |
| Business Code 20 | Others |
Know more about GST & HSN Code