NIC Code for Udyam Registration
The National Industrial Classification (NIC) Codes are crucial for Udyam registration for micro, small, and medium-sized enterprises (MSMEs) in India. The NIC Code, also known as the Industrial Activity Code, serves as a standardised framework for classifying various economic activities based on their nature and characteristics. It helps ensure accurate categorisation of businesses for better analysis, policy formulation, and data management.
To undergo Udyam registration, MSMEs must provide the appropriate NIC Code that aligns with their primary economic activity. The NIC code, taken from the broader NIC classification, ensures that each business is accurately categorised based on its operations.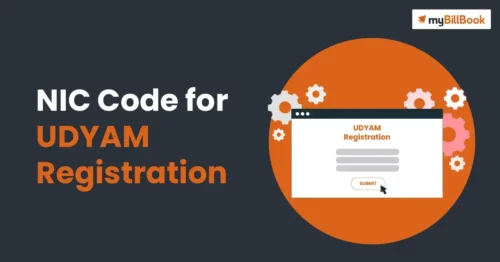 Download myBillBook to Generate Bills
| | |
| --- | --- |
| Section A | Agriculture, Forestry, and Fishing |
| Division 01 | Crop and animal production, hunting, and related service activities |
| Group  011 | Growing non-perennial crops |
| Group  012 | Growing perennial crops |
| Group  013 | Plant propagation |
| Group  014 | Animal production |
| Group  015 | Mixed farming |
| Group  016 | Support activities for agriculture and post-harvest crop activities |
| Group  017 | Hunting, trapping, and related service activities |
| Division 02 | Forestry and logging |
| Group  021 | Silviculture and other forestry activities |
| Group  022 | Logging |
| Group  023 | Gathering of non-wood forest products |
| Group  024 | Support services to forestry |
| Division 03 | Fishing and aquaculture |
| Group  031 | Fishing |
| Group  032 | Aquaculture |
| Section B | Mining and Quarrying |
| Division 05 | Mining of coal and lignite |
| Group  051 | Mining of hard coal |
| Group  052 | Mining of lignite |
| Division 06 | Extraction of crude petroleum and natural gas |
| Group  061 | Extraction of crude petroleum |
| Group  062 | Extraction of natural gas |
| Division 07 | Mining of metal ores |
| Group  071 | Mining of iron ores |
| Group  072 | Mining of non-ferrous metal ores |
| Division 08 | Other mining and quarrying |
| Group  081 | Quarrying of stone, sand, and clay |
| Group  089 | Mining and quarrying n.e.c. |
| Division 09 | Mining support service activities |
| Group  091 | Support activities for petroleum and natural gas mining |
| Group  099 | Support activities for other mining and quarrying |
| Section C | Manufacturing |
| Division 10 | Manufacture of food products |
| Group  101 | Processing and preserving of meat |
| Group  102 | Processing and preserving of fish, crustaceans, and molluscs |
| Group  103 | Processing and preserving of fruit and vegetables |
| Group  104 | Manufacture of vegetable and animal oils and fats |
| Group  105 | Manufacture of dairy products |
| Group  106 | Manufacture of grain mill products, starches, and starch products |
| Group  107 | Manufacture of other food products |
| Group  108 | Manufacture of prepared animal feeds |
| Division 11 | Manufacture of beverages |
| Group  110 | Manufacture of beverages |
| Division 12 | Manufacture of tobacco products |
| Group  120 | Manufacture of tobacco products |
| Division 13 | Manufacture of textiles |
| Group  131 | Spinning, weaving, and finishing of textiles |
| Group 139 | Manufacture of other textiles |
| Division 14 | Manufacture of wearing apparel |
| Group 141 | Manufacture of wearing apparel, except fur apparel |
| Group 142 | Manufacture of articles of fur |
| Group 143 | Manufacture of knitted and crocheted apparel |
| Division 15 | Manufacture of leather and related products |
| Group 151 | Tanning and dressing of leather; manufacture of luggage, handbags, saddlery and harness; dressing and dyeing of fur |
| Group 152 | Manufacture of footwear |
| Division 16 | Manufacture of wood and products of wood and cork, except furniture; manufacture of articles of straw and plaiting materials |
| Group 161 | Sawmilling and planing of wood |
| Group 162 | Manufacture of products of wood, cork, straw and plaiting materials |
| Division 17 | Manufacture of paper and paper products |
| Group 170 | Manufacture of paper and paper products |
| Division 18 | Printing and reproduction of recorded media |
| Group 181 | Printing and service activities related to printing |
| Group 182 | Reproduction of recorded media |
| Division 19 | Manufacture of coke and refined petroleum products |
| Group 191 | Manufacture of coke oven products |
| Group 192 | Manufacture of refined petroleum products |
| Division 20 | Manufacture of chemicals and chemical products |
| Group 201 | Manufacture of basic chemicals, fertilizer and nitrogen compounds, plastics and synthetic rubber in primary forms |
| Group 202 | Manufacture of other chemical products |
| Group 203 | Manufacture of man-made fibres |
| Division 21 | Manufacture of pharmaceuticals, medicinal chemical and botanical products |
| Group 210 | Manufacture of pharmaceuticals, medicinal chemical and botanical products |
| Division 22 |  Manufacture of rubber and plastics products |
| Group 221 | Manufacture of rubber products |
| Group 222 | Manufacture of plastics products |
| Division 23 | Manufacture of other non-metallic mineral products |
| Group 231 | Manufacture of glass and glass products |
| Group 239 | Manufacture of non-metallic mineral products n.e.c. |
| Division 24 | Manufacture of basic metals |
| Group 241 | Manufacture of basic iron and steel |
| Group 242 | Manufacture of basic precious and other non-ferrous metals Group 243 Casting of metals |
| Division 25 | Manufacture of fabricated metal products, except machinery and equipment Group 251 Manufacture of structural metal products, tanks, reservoirs and steam generators |
| Group 252 | Manufacture of weapons and ammunition |
| Group 259 | Manufacture of other fabricated metal products; metalworking service activities |
| Division 26 | Manufacture of computer, electronic and optical products |
| Group 261 | Manufacture of electronic components |
| Group 262 | Manufacture of computers and peripheral equipment |
| Group 263 | Manufacture of communication equipment |
| Group 264 | Manufacture of consumer electronics |
| Group 265 | Manufacture of measuring, testing, navigating and control equipment; watches and clocks |
| Group 266 | Manufacture of irradiation, electromedical and electrotherapeutic equipment |
| Group 267 | Manufacture of optical instruments and equipment |
| Group 268 | Manufacture of magnetic and optical media |
Know more about GST & HSN Code