NIC Code for Kirana Stores
For Kirana shops understanding and adhering to the correct NIC code is more than just a regulatory obligation—it's a strategic move that opens doors to opportunities and growth. For these neighbourhood grocery stores that serve as lifelines for many, understanding the NIC code is crucial to compliance, recognition, and growth in India's dynamic market. Kirana shops can thrive by leveraging the benefits of accurate NIC code classification.
NIC Code of Kirana Stores
According to the National Industrial Classification System (NIC 2008)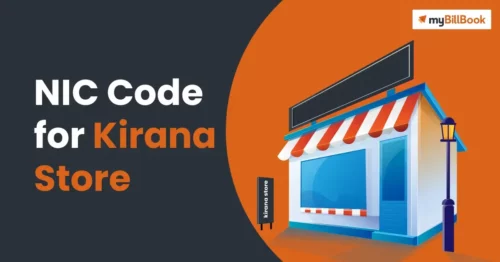 Download myBillBook to Generate Bills
The NIC Code for Kirana Stores is 52110
Under NIC 2008, Kirana Shops fall under Section G Division 52. The related groups, classes, and subclasses are as below.
Section G

Wholesale and Retail Trade; Repair of Motor Vehicles, Motor Cycles And Personal and Household Goods

Division 52

Retail Trade, Except of Motor Vehicles And Motorcycles;

Repair Of Personal And Household Goods

Group 521

Non-specialized retail trade in stores

Class 5211

Retail sale in non-specialised stores with food, beverages or tobacco

Sub-Class 52110

Retail sale in non-specialised stores with food, beverages or tobacco – Includes mainly general stores with several other lines of products such as cosmetics, clothing etc., apart from their main sales of groceries.

Sub-Class 52190

Other retail sale in non-specialized stores – Mainly includes departmental stores carrying a general line of merchandise, including apparel, appliances, cosmetics, jewellery, toys, sporting goods etc.

Sub- Class 52201

Retail sale of food, beverages and tobacco in specialised stores – Mainly includes the sale of cereals and pulses, tea, coffee, spices, flour and other basic food items.
Importance of Finding the Right NIC Code for Kirana Stores
The NIC code plays an important  role in several areas for Kirana shops:
To identify the business:

Registering the Kirana business under the appropriate NIC code ensures that Kirana shops are accurately recognised and categorised within the larger economic landscape. This aids in statistical analysis and policy formulation.

Government Compliance

: The code serves as a basis for regulatory compliance, ensuring Kirana shops adhere to relevant rules and regulations. It simplifies the process of obtaining licenses, permits, and registrations.

Access to Benefits

: Kirana shops classified under the correct NIC code can access government schemes, incentives, and support tailored to their sector. This can empower these small businesses to thrive and expand.

Market Insights

: The NIC code enables authorities to gather insights into Kirana shop trends, contributing to informed policy enhancement and economic growth decision-making.
Know more about GST & HSN Code