Billing Software for Physiotherapy Clinics
Invoicing Software for physiotherapy clinics streamlines the billing process and helps manage your cash flows efficiently. It keeps your client's data safe and provides easy access to all your business data. You can also track your clinic's expenses using the billing software. myBillBook is a cloud-based billing software that can help medical practices like physiotherapy clinics easily conduct their billing and accounting tas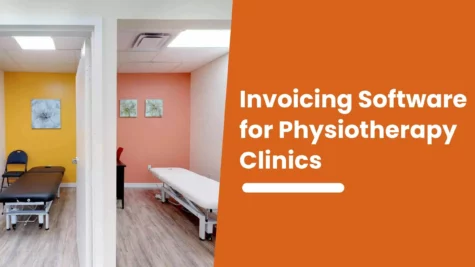 Features of myBillBook Invoicing Software for Physiotherapy Clinics
Customised Invoice Generation: myBillBook billing software for physiotherapy clinics has more than 6 invoice templates with different colour combinations and styles. Pick one close to your physiotherapy clinic's logo or brand image, customise it by adding or removing fields, and add your clinic's logo, contact information, and bank account information, and your invoice is ready.
Once you personalise the invoice, the new settings will be automatically applied to all the new invoices generated using the software.
SmartCollect Payments to Record Payments: SmartCollect is an exclusive feature offered by myBillBook billing software for physiotherapy clinics to enable easy online payments and ledger settlements.
Enable the SmartCollect feature on the app and add your settlement bank account to which you want the payments to get credited. Receive payments directly to the Smart account by sharing the payment link or QR code. Receive instant notifications once the invoice gets settled.
Expense Tracker: Record all the purchases or expenses related to the physiotherapy clinic in the billing app 'Expenses' section. You can enter the type of expense, payment mode, date, item description, and total expense amount to record the transaction. You can easily find or track the expense by searching the above entries.
Staff Management: Employee attendance and payroll management can also be done using the billing software for physiotherapy clinics. The 'Staff Attendance & Payroll' feature lets you record your staff's daily attendance, monthly salary, advance, and bonus details in the software.
Comprehensive Dashboard: You create invoices, enter expense data, use a Smart account, record expenses, manage staff attendance and payroll, and do much more. With all such data, the invoicing software for physiotherapy clinics presents a dashboard, which gives a quick glimpse of the entire information.
myBillBook invoicing software's dashboard displays all the latest transactions, payments collected, pending payments, total bank balance, sales chart, etc., giving you a clear picture of your business on a given day or in a particular period.
Data Security: We know how critical every patient's information is for your physiotherapy business. myBillBook is an ISO-certified app that provides all the safety and security features for protecting your client's information. The entire data on the app is encrypted and stored securely on anonymous servers to prevent virus and malware attacks. Hence, your business information remains safe with us.
FAQS on Invoicing Software for Physiotherapy Clinics
How to install myBillBook software on my PC?
myBillBook is a cloud-based application. The app is available for download on Android mobile phones, iOS phones, Mac computers, and Windows PCs. Simply visit the respective App store, download the app, sign up with your mobile number and start using the app instantly. You can also log in directly from the myBillBook website.
Can I give access to my physiotherapy clinic employee to myBillBook app?
Yes, using the 'Manage Staff User' account, you can provide limited access to your employees to the billing app. You can control the level of access based on the employee role and hence will have complete control over the business data.
Can I track my stock details using the billing software for physiotherapy clinics?
Yes, myBillBook also offers inventory management feature using which you can enter your stock details, update them as and when used and get to know the current stock status.
Do I need to purchase myBillBook for lifetime?
myBillBook is currently offered on a yearly subscription basis. You can purchase a one-year plan and renew it if you like the product.
Is customer support available for myBillBook billing software for physiotherapy clinics?
Yes, myBillBook billing software offers 24/7 voice and chat support. You can call or Whatsapp chat with us at +91 7400417400.
Know more about  Billing & Accounting Software for Small Businesses