Invoicing Software for Freelancers
Invoicing software for freelancers is a tool that allows you to generate invoices for the products or services you have provided for your clients.
As a freelancer, you might know the importance of providing an invoice to your clients to request payments. Without a proper invoice, businesses might hesitate to pay you even when you're prompt in your product/service delivery. For them, an invoice is quite essential to move funds from their company accounts. Hence providing an invoice becomes necessary for every freelancer.
Invoice generation becomes even more difficult when working with multiple clients, as it is confusing and time-consuming. Using a freelancer's invoicing software like myBillBook thus plays a key role in streamlining your invoicing generation process. Further, organised invoices make it easy for you during the tax filing season.
myBillBook invoicing software for freelancers provides various features related to billing and accounting to help the self-employed group manage their finances efficiently.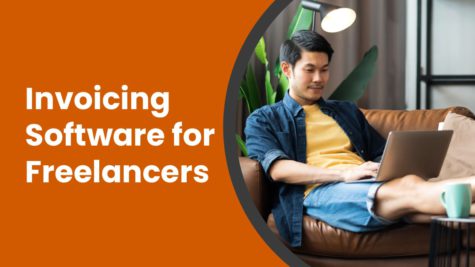 Features of myBillBook Invoicing Software for Freelancers
Professional Invoice Templates: myBillBook offers various invoicing templates, allowing freelancers like you to create professional invoices. Sending a professional invoice helps your client identify you as a reliable service provider.
Send Quick Quotations: Every new contract in your freelancing journey starts with a quotation. myBillBook billing app allows you to send instant quotations to your clients, making your work easy. If you're dealing with clients in the same industry, you can use the same quotation for multiple clients.
Not just that, once the proposal gets approved, you can convert the quotation into an invoice with a single click. 
Manage Invoices from Anywhere: With the myBillBook app installed on your phone, you don't have to be before your PC to generate and send an invoice. You can do all the functions from your mobile app and be on business anywhere and at any time.
Accept Online Payments: myBillBook invoicing software for freelancers allows you to accept payments from different gateways. While sending invoices to the clients, you can include account details, QR codes, UPI Ids and the like. Accepting online payments enables customers to clear their dues much faster.
Payment Reminders: Not all clients are alike. Some might require that extra push to make payments. For such people, the invoicing app sends payment reminders at a pre-fixed time, thus prompting timely payments.
Other Features: Besides the basic invoicing functions, myBillBook invoicing software for freelancers has various other accounting, and people management features like –
Expense Tracking
Multiple Bank Account Management
Manage Cash in Bank & Cash in Hand
Manage Staff, Attendance & Payroll
Detailed Reports
Interactive Dash Board
You can choose to use any of these features based on your freelancing business type.
FAQs on Invoicing Software for Freelancers
Do freelancers actually need invoicing software?
It depends on the type of industry you're in and the number of clients you're dealing with. If you are dealing with less number of clients, you can manage with invoice formats in Word or invoice format in Excel.
How much would it cost to buy billing software for freelancers?
You don't have to buy billing software. Instead, you can take a yearly subscription that would cost you much lesser than your OTT subscription. myBillBook is offered in different subscription plans to suit every freelancing type and size.
Is the time tracking feature available on myBillBook billing software for freelancers?
All the above-mentioned invoicing features are available in myBillBook. The app is constantly updating to add new features, including time tracking, to help freelancers do their job more efficiently.
Know more about Billing Software & Billing Format