Debit Note Format in Excel
Businesses use a debit note to notify suppliers of any discrepancies or errors in a purchase order or invoice. A debit note serves as a request for the supplier to make a correction to the invoice and is considered a correction record that helps update the accounting records. The debit note typically includes information such as the date, supplier name, invoice number, disputed items or services, and the dispute's reason.
A debit note format in Excel is a sample debit note template created using MS Excel with all the required fields to form a debit note. Once the format of a debit note is set, businesses can generate debit notes quickly and easily. You can customise the debit note format in Excel based on your business requirements. Once the final format is set, you can use the same to generate recurring debit notes in Excel format. Make a copy of the same, fill in the details, take a print out and hand it over to the supplier. On the other hand, you can also save it and share it electronically with the users.
Debit Note Format in Excel – Fields to Include
The following is a list of the fields to create in a debit note format in Excel:
Header –  Debit Note
Seller's Details like – Company name, logo, Address, and contact details
Date of issue
Serial Number
Date of the actual invoice
Supplier details – name, address, contact details
Value of goods as per the previous invoice, tax rate, and amount of tax credit to the buyer
Signature of the authorised personnel
Sample Debit Note Format in Excel
A sample debit note format is provided here for your reference. You can download and use it as is or customise it as per your business requirements. You can also use it as a reference to create your own debit note format. Either way, make sure to include all the relevant fields for a debit note format to avoid corrections while creating a debit note at a later time.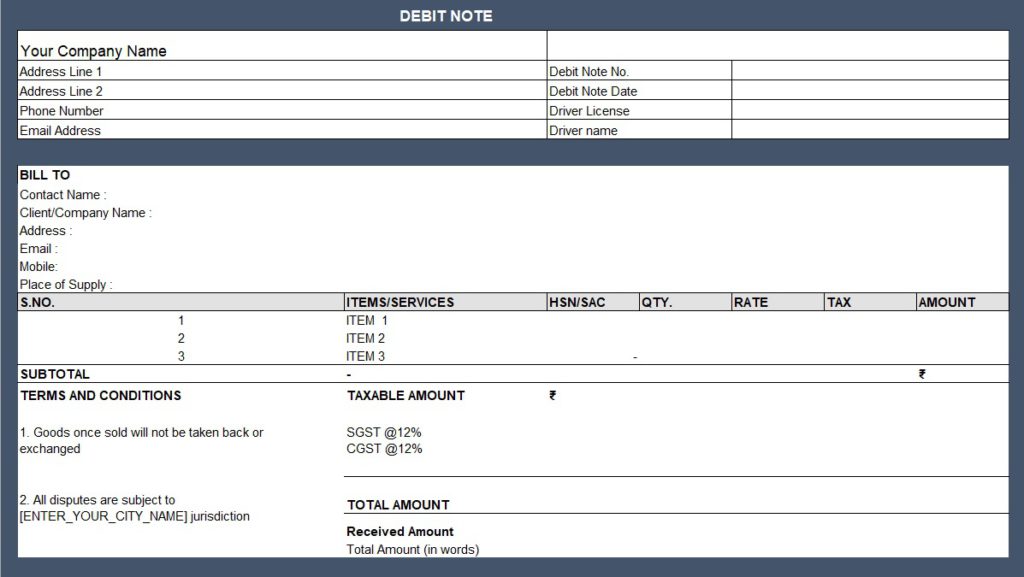 Download Free Debit Note Format in Excel
If you don't have time and would like to use a readymade downloadable template of a debit note format, here it is. You can download the free sample available here, save it and use it whenever you wish to generate a debit note. As Excel offers an easy-to-use mechanism to create a debit note format with pre-defined rows and columns, we have created a sample debit note format for your perusal.
Steps to Create Debit Note Format in Excel
If you're still unhappy with the free sample and the downloadable debit note template, you can create one on your own using the steps mentioned below.
Open a new Excel workbook.
Enter the header information for the debit note, such as the name and address of the buyer and the seller, the date of the transaction, and the invoice number.
Create a table with columns for the item description, quantity, unit price, and total price.
You can also include columns for any applicable taxes or discounts.
Add formulas to calculate each line item's total price and the invoice's subtotal.
If applicable, add a section for additional fees or charges, if applicable
Include a space for the total amount due, which should be the sum of the subtotal and any additional fees or charges minus any applicable discounts.
Save the template as a reusable debit note template for future use.
Test the template by entering sample data and verifying the calculations are correct before using it to create actual debit notes for your suppliers.
Why Not Create a Debit Note Format in Excel
One major disadvantage of creating a debit note format in Excel is that you cannot do more customisations. Also, creating a debit note from the template takes a lot of time and effort, as every piece of information needs to be entered manually. Manual entries are prone to errors and would require you to create debit notes multiple times. Also, saving every created document eats up a lot of space on your hard drive. Further, finding one debit note from the lot is not an easy task.
Use Billing Software To Generate Debit Notes
One solution to all the above-mentioned problems is to use billing software to create debit notes. myBillBook is one of the best billing and invoicing software in the market that helps businesses generate different types of invoices, including GST invoices, delivery challans, proforma invoices, and debit notes and credit note formats in Excel.  
Using myBillBook, you can generate debit notes in a few clicks. You can simply enter the information in the required fields, and the debit notes will be ready in a few seconds.
Download myBillBook on your mobile today and enjoy a 14-day free trial. Experience the app in real-time, and if you like it, subscribe to get full access to all its billing and accounting features.
FAQS on Debit Note Format in Excel
What is a debit note format in Excel?
Debit note format in Excel is a pre-designed template that helps businesses to create debit notes easily.
Is there any GST-specific debit note format in Excel?
No, the GST Act does not specify any debit note format in Excel. However, it has listed the situations in which debit notes must be generated.
How to download a debit note format in Excel?
Many websites offer downloadable debit note formats in Excel. You can visit any credible source and download the format from there.
How to create a debit note format in Excel?
You can refer to any sample debit note format and replicate it in MS Excel. Alternatively, you can also download a ready-to-use downloadable debit note format in Excel from the Internet.
How to use a debit note format in Excel?
Make a copy of the existing template, save it with a different name, preferably the name of your supplier or business, fill in the required fields and save it. You can either take a printout of the same or share it online through Whatsapp or email.
Know more about other Billing Templates