What is Udyogini Scheme?
The Women Development Corporation's Udyogini Scheme provides subsidised loans to budding women entrepreneurs from rural and impoverished areas.
Udyogini, "Women Entrepreneur," is a recognised non-profit organisation dedicated to women's economic empowerment. Udyogini Scheme spreads over 200 villages throughout five states: Rajasthan, Chhattisgarh, Jharkhand, Madhya Pradesh, and Uttarakhand.
The program encourages women's entrepreneurship, financial empowerment, and self-sufficiency by providing financial support.
The initiative intends to promote more micro-firms to emerge and contribute to the country's overall growth.
The Udyogini Scheme's primary goals are as follows:
Encouragement of women to obtain loans from banks and other financial organisations to engage in income-generating activities
Reduce the cost of financial assistance for women from the SC/ST or special category.
To make interest-free loans to qualified female beneficiaries without discrimination or bias.
Ensure the skill development of women beneficiaries through EDP Training.
Prevent women from contacting private money lenders or other financial organisations for high-interest loans.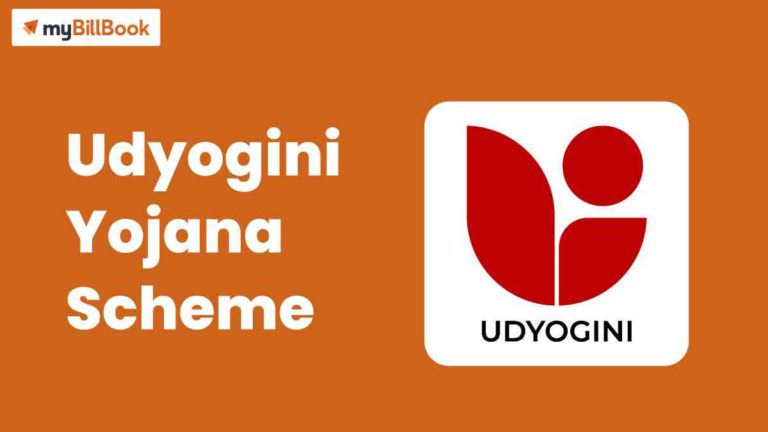 What is the purpose of the Udyogini Scheme?
Karnataka State Women's Development Corporation (KSWDC), Punjab and Sind Bank, Saraswat Bank and a few more private and public sector banks offer the Udyogini Scheme:
Providing loans with no interest to qualified women entrepreneurs in agribusiness, retail, and small business.
Offering three days of EDP training for the beneficiary ladies before disbursal of the loan.
Eligibility criteria for loans under the Udyogini Scheme
Loans under the Udyogini scheme are available to ambitious female entrepreneurs that meet the following criteria:
Age range: 25 to 65 years
Family income: 1.5 lakhs
The Udyogini scheme excludes women who fall into special categories such as being disabled, widowed, or poor from fulfilling the upper-income requirement.
Documents needed for Udyogini Scheme
Aadhar or BPL card
Income and Birth Certificates
Bank Passbook's photocopy- with details like account number, name of the account holder, name of the bank, branch, IFSC and MICR codes
Udyogini Scheme – July 2022
Let's have a look at the Udyogini scheme interest rates for July 2022:

Karnataka State Women's Development Corporation (KSWDC), Punjab and Sind Bank, Saraswat Bank, several other private and public sector banks, and top NBFCs are the primary providers of the Udyogini Scheme. This programme focuses on planning and implementing skill development training programmes for women and providing financial help.
How to use the Udyogini Yojana
To apply for a business loan under the Udyogini Yojana Scheme, applicants should go to their nearest bank with all the necessary documents and fill out an application form before proceeding with the bank formalities. Applicants can also apply for loans online by visiting banks' official websites participating in the Udyogini Yojana Scheme.
List of enterprises participating in the Udyogini Yojana
Loans under the Udyogini Yojana are made available at competitive interest rates by various financial institutions, including cooperative banks, Regional Rural Banks (RRBs), and commercial banks. Only female entrepreneurs are eligible for corporation subsidies to manage their businesses. The application form for the Udyogini Yojana Scheme is available on the bank's official website.
The following is a comprehensive list of the 88 company types available through the Udyogini Scheme:
Agarbatti Manufacturing
Audio & Video Cassette Parlour
Bakeries
Banana Tender Leaf
Bangles
Beauty Parlour
Bedsheet & Towel Manufacturing
Book Binding And Note Books Manufacturing
Bottle Cap Manufacturing
Cane & Bamboo Articles Manufacturing
Canteen & Catering
Chalk Crayon Manufacturing
Chappal Manufacturing
Cleaning Powder
Clinic
Coffee & Tea Powder
Condiments
Corrugated Box Manufacturing
Cotton Thread Manufacturing
Crèche
Cut Piece Cloth Trade
Dairy & Poultry Related Trade
Diagnostic Lab
Dry Cleaning
Dry Fish Trade
Eat-Outs
Edible Oil Shop
Energy Food
Fair-Price Shop
Fax Paper Manufacturing
Fish Stalls
Flour Mills
Flower Shops
Footwear Manufacturing
Fuel Wood
Gift Articles
Gym Centre
Handicrafts Manufacturing
Household Articles Retail
Ice Cream Parlour
Ink Manufacture
Jam, Jelly & Pickles Manufacturing
Job Typing & Photocopying Service
Jute Carpet Manufacturing
Leaf Cups Manufacturing
Library
Mat Weaving
Match Box Manufacturing
Milk Booth
Mutton Stalls
Newspaper, Weekly & Monthly Magazine Vending
Nylon Button Manufacturing
Old Paper Marts
Pan & Cigarette Shop
Pan Leaf or Chewing Leaf Shop
Papad Making
Phenyl & Naphthalene Ball Manufacturing
Photo Studio
Plastic Articles Trade
Pottery
Printing & Dyeing of Clothes
Quilt & Bed Manufacturing
Radio & TV Servicing Stations
Ragi Powder Shop
Readymade Garments Trade
Real Estate Agency
Ribbon Making​​
Sari & Embroidery Works
Security Service
Shikakai Powder Manufacturing
Shops & Establishments
Silk Thread Manufacturing
Silk Weaving
Silk Worm Rearing
Soap Oil, Soap Powder & Detergent Cake Manufacturing
Stationery Shop
STD Booths
Sweets Shop
Tailoring
Tea Stall
Tender Coconut
Travel Agency
Tutorials
Typing Institute
Vegetable & Fruit Vending
Vermicelli Manufacturing
Wet Grinding
Woollen Garments Manufacturing
FAQs about Udyogini Scheme
How much money can I borrow through the Udyogini scheme?
The maximum credit amount available to a female entrepreneur under the Udyogini Scheme is Rs. 3 lakh.
Where can I apply for a loan through the Udyogini Scheme?
Leading banking institutions provide business loans through Udyogini Scheme. Bajaj Finserv, Saraswat Bank, Punjab and Sind Bank, and Karnataka State Women's Development Corporation (KSWDC) are among the banks and NBFCs offering business loans under the Udyogini Scheme.
What exactly is the goal of the Udyogini Scheme?
The Government launched the Udyogini Scheme for the care and growth of Indian Women Entrepreneurs. This programme motivates female entrepreneurship among the underprivileged by providing financial assistance to women who want to start a business.
The scheme funds and assists women in rural and underserved communities.
What is the limit of money I can borrow under the Udyogini scheme?
The Udyogini Scheme allows you a maximum grant of Rs. 3 lakhs.
What is the minimum age to apply for the Udyogini scheme?
This loan is available to women aged 18 to 55.
Is the Udyogini Scheme loan only for people who fall into the SC/ST category?
No, this loan related to the Udyogini Scheme is available to women of all income levels.
Which companies are eligible for this loan?
The Udyogini Scheme can help up to 88 distinct enterprises. Loans are available to enterprises in the SSI sector, retailers, manufacturers, self-employed professionals, traders, etc.
Know more about Businesses loans & Ideas