Overdraft (OD) Loan
An Overdraft (OD) Loan or Overdraft facility is one of the popular credit lines available for businesses to acquire funds for their urgent and short-term financial requirements. Businesses can use the overdraft facility either to set up a new business or expand an existing business. Compared to small business loans, the Overdraft loan facility provides quick access to funds, flexible repayment options, and cost-effective interest calculations. Hence, overdraft business loans have become a popular choice among entrepreneurs. This page sheds some more light on the overdraft facility by explaining in length its features, benefits, eligibility criteria, etc.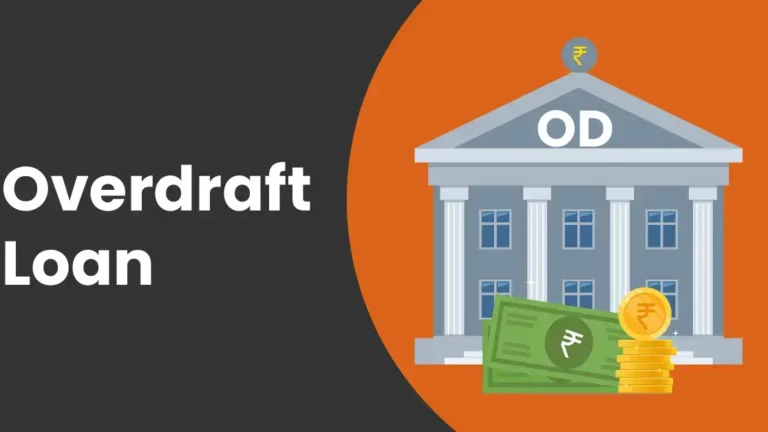 What is an Overdraft Loan?
An overdraft business loan is a type of credit facility offered by banks and financial institutions to assist businesses in managing their working capital needs effectively. It gives businesses access to funds up to a specified credit limit, allowing them to withdraw and repay funds as per their requirements. The interest is charged only on the amount utilised, providing flexibility and cost-effectiveness.
How Does an Overdraft Business Loan Work?
To access an Overdraft facility, a business needs to open an OD facility in a bank, preferably in a bank/branch where their existing bank accounts are. While opening the OD account, the bank will set a credit limit considering the businesses' creditworthiness and financial health.
Once the OD facility is active, businesses can withdraw funds up to the set limit as and when necessary. The bank will charge interest only on the withdrawn amount and for the duration of the borrowing period. There isn't any fixed repayment tenure or any EMI, and the accountholders are free to repay the amount as and when available.
However, the overall tenure or the active period of an OD is 12 months, post which accountholders need to either renew it or discontinue the same.
Key Features of Overdraft Business Loans
Flexible Repayment: One of the primary advantages of an overdraft business loan is its flexibility in repayment. Businesses can make repayments at their convenience based on the funds available to them.
Credit Limit: The overdraft facility comes with a pre-approved credit limit based on the borrower's business income and credit history. The credit limit can be revised periodically based on the borrower's repayment behavior.
Interest Calculation: Interest is charged only on the amount utilised, not on the entire credit limit. This feature helps businesses save on interest costs.
Quick Access to Funds: Once the overdraft facility is set up, businesses can withdraw funds as required without having to go through multiple approval processes. Thus providing quick and convenient access to funds.
No Collateral: The OD facility does not require the applicant to pledge any collateral. The facility will be provided based on the creditworthiness of the business.
Minimum Documentation: Unline business loans, OD facility requires fewer documents for processing, making the disbursement quick and hassle-free.
Online Processing: Many banks allow applicants to apply for an OD facility online. Once the document verification and eligibility check is completed, the bank will approve the OD facility.
Documents Required to Apply for an Overdraft Loan
While the specific documentation requirements may vary among lenders, the following are commonly required documents to apply for an overdraft business loan.
Application Form
KYC Documents
Identity Proof – Aadhaar card or Passport or Voter ID, or any other government-issued identification document.
Address Proof – Utility bills (electricity, water), bank statements, Aadhaar, rental agreement, or any other government-issued valid address proof.
PAN Card
Business Registration Documents
6-12 Months Bank Statements
Income Tax Returns
FAQs on Overdraft Loan Facility
What is the maximum loan amount that can be availed through an overdraft business loan?
The maximum loan amount for an overdraft business loan depends on various factors, such as the borrower's creditworthiness, business stability, and bank policies. Typically, the loan amount can range from a few lakhs to several crores of rupees.
How is the interest calculated for an overdraft business loan?
The interest rate on an overdraft loan is usually linked to a base rate such as the Marginal Cost of Funds Based Lending Rate (MCLR) or the Reserve Bank of India's repo rate. The interest is charged on a daily or monthly reducing balance basis.
Can I repay the overdraft loan amount before the due date?
Yes, overdraft loans offer flexibility in repayment. Borrowers can repay the loan before the due date without any prepayment penalty.
What is the tenure or repayment period for an overdraft business loan?
Overdraft loans typically do not have a fixed tenure like term loans. The repayment period depends on the borrower's convenience and the lender's terms. Accountholders can repay the amount as and when available.
Can I use the overdraft facility for personal expenses or investments other than my business?
No, the overdraft facility is specifically designed to meet business-related working capital needs. It is not meant for personal expenses or investments unrelated to the business. Lenders monitor the utilisation of funds and expect businesses to use them only for legitimate business purposes.
Know more about Businesses loans & Ideas