Cash Credit Loan
A cash credit loan is a short-term borrowing arrangement offered by financial institutions to businesses and individuals. It provides access to a revolving line of credit, allowing borrowers to withdraw funds up to a specific limit as needed. Cash credit loans are commonly used by businesses to manage their working capital needs and address immediate financial requirements. Here's how cash credit loans work, features, benefits and its application process: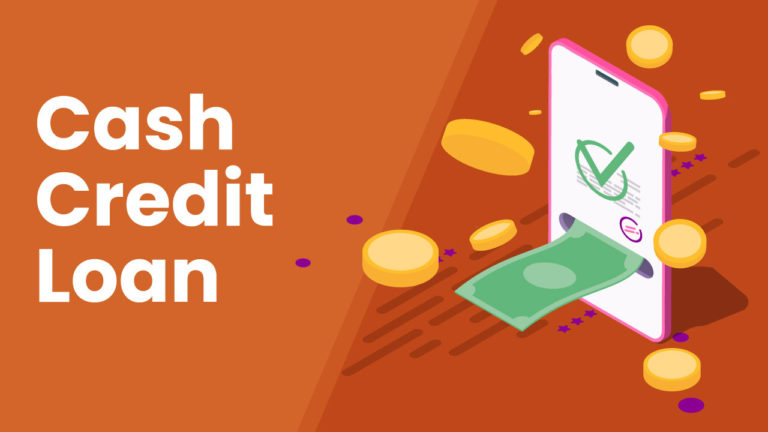 What is a Cash Credit Loan?
A cash credit loan is a working capital loan in which funds may be withdrawn in exchange for the hypothecation of securities and accounts receivable. During a liquidity shortage, cash credit immediately assists firms in getting out of it. This working capital loan is available as both an unsecured loan and a secured loan. The business may only borrow money from the lender up to the sanctioned limit. To obtain cash credit, companies must provide collateral or security; this collateral may be property, equipment, stock in trade, raw materials, finished goods, fixed assets, etc.
Features of Cash Credit Loan
Cash credit loans are revolving credit facilities, meaning the borrowed amount can be repaid and re-borrowed multiple times within the credit limit.

Cash credit loans are usually secured loans, requiring borrowers to provide collateral as security. The collateral could be inventory, receivables, or other movable or immovable assets.

Interest is charged only on the amount withdrawn and utilised, not the entire credit limit.

Borrowers can repay the borrowed amount whenever they have funds available, as long as it's within the agreed-upon repayment terms.

Cash credit loans are generally short-term, with repayment terms typically ranging from a few months to a year.

Businesses often use cash credit loans to manage their working capital needs, such as funding day-to-day operations, purchasing inventory, or meeting short-term financial obligations.

Before approving a cash credit loan, financial institutions assess the borrower's creditworthiness, business performance, and collateral value.
Benefits of Cash Credit Loans
A cash credit loan is an excellent source of capital that relieves a company's concern regarding asset sales.

The bank can easily arrange a cash credit loan if the loan value is known and collateral security is provided.

Checking your CIBIL score is not required.

The interest you pay on your loan is tax deductible, so you can deduct that payment from your taxes.

Used to meet the needs for working capital.

It is affordable for short-term financing because interest only applies to the amount used.
Documents required for Cash Credit Loan
Here are some standard documents required for this cash credit loan:
Proof of Identity
A government-issued photo ID and documentation of the borrower's or the business owner's address are necessary, such as a bank statement or utility bill.
Business Proof
The owner must provide a GST certificate, license, PAN card, or other document demonstrating the company's legitimacy.
Bank Statements
The most recent bank statements for the main business operating account must be provided to the lender.
Financial Statements
The lender must receive the most recent bank statements for the primary business operating account.
Collateral Documents
Documents about the collateral, such as property deeds or evidence of ownership, are typically required by the lender.
Business Profile & Details
The lender requires a thorough business plan and an in-depth description of the company's history, products, and services.
How to apply for Cash Credit Loans?
A cash credit loan application tailored to your company's requirements can be found on the bank's website.

Check the loan eligibility

Fill out the loan application form with personal details 

Send the necessary paperwork on the bank's website and the completed form.

The bank or lender will examine the application and assess the business's current assets and liabilities before approving a cash credit limit. 

A company's permitted cash credit limit is higher in sound financial condition.
Cash Credit Loan Interest Rate-
The interest rate for obtaining a Cash Credit loan varies from bank to bank, is subject to periodic adjustment, and is determined by the applicant's creditworthiness and financial history.
Considerations when applying for cash credit loans
The value of the collateral affects the interest rates for these loans. The borrower may be able to negotiate a reduced interest rate for working capital loans if the value of the collateral is substantial.

There can be limitations on the kinds of collateral that lenders will accept. Some lenders won't accept raw materials or merchandise as security. To learn more about this, you should contact your lender.

Most lenders in the market provide running credit for needs related to working capital. Here, companies can make withdrawals whenever they need to from their accounts.

Since this facility is based on running credit, maintaining a solid loan repayment history is required to receive more perks. Every year, lenders assess it and modify the account's terms and circumstances by the loan payback history.

Lenders frequently impose limitations on how the loan proceeds may be used. Businesses can use the funds for any form of working capital needs. It cannot, however, be utilised for other things like long-term investments or personal necessities.
Advantages and disadvantages of Cash Credit 
There are both advantages and disadvantages to cash credit. It is essential to weigh your options carefully before deciding whether a cash credit loan will be the best option for your business.
| | |
| --- | --- |
| Advantages | Disadvantages |
| A cash credit loan is a great funding source, which makes business not worry about selling off assets. | A business cannot depend on this loan for an extended period because it is a short-term loan. The cash credit loan can be renewed after it expires, but the terms and conditions are reassessed. |
| The bank can easily arrange a cash credit loan if the loan value is known and collateral security is given. | Since loan approval is based on a company's profit history and available collateral security, new businesses may find it challenging to obtain this loan. |
| There is no requirement to check your CIBIL score. | The repayment period is upto 12 months. |
| Interest is Tax-deductible – If you pay interest on your loan, you can write that amount off on your taxes. | Interest rates are high. |
| Used to meet working capital needs. | It cannot be used for investments or personal needs. |
Difference between Cash Credit and Overdraft
Two main types of short-term business financing are cash credit and overdraft. Both options provide businesses the funds to cover expenses and keep operations running smoothly. However, companies should be aware of some critical differences between the two financing options.
| | |
| --- | --- |
| Cash Credit | Overdraft |
| Cash credit is a type of loan that is typically secured by collateral. This means businesses will need to put up some form of security, such as inventory or equipment, to qualify for the loan. | Overdraft, on the other hand, is a type of financing that banks provide to businesses with an existing account. An overdraft allows businesses to withdraw more money than they have in their account, up to a specific limit. |
| A new account needs to be opened | Can be availed on an existing account |
| Interest is calculated on the amount withdrawn by the applicant. | Interest is calculated on the amount availed. |
| The loan duration is upto 12 months. | Loan duration can be monthly, quarterly, half-yearly and yearly. |
FAQ about Cash Credit Loan
Can liquid securities be used as collateral to obtain Cash Credit Loans?
Liquid securities are acceptable as collateral by some market lenders. However, some lenders only accept inventory or real estate as collateral. Get in touch with the lender to know more about the collateral.
How long does it typically take for lenders to disburse a loan?
Some lenders offer loans in as little as 24 hours, while others process loan applications and disburse the funds in a few days.
Is it possible to get working capital loans without putting up security?
Working capital loans are typically only provided after putting up collateral. If you prefer unsecured loans, you can take a personal loan and use the money for your company's needs. On the other hand, unsecured loans have high-interest rates based on your annual income, credit score, loan amount, and repayment terms.
My company is having financial problems. Will Cash Credit loans be beneficial to me?
Cash credit loans are the best option for people who struggle to cover a business's operating costs. Additionally, seasonal businesses that only experience exponential growth in sales during a few months of the year can benefit from it.
How much will Cash Credit Loans cost me in fees?
Lenders assess a processing fee on the loan amount, and you might be penalised if you fail to pay on time. In addition, lenders may have additional costs, such as commitment, stamp duty, stock audit, conversion, check bounce, etc.
How much money can be borrowed through the Cash Credit facility?
Financial institutions' loans depend on the company's number of stocks and receivables.
Where can I use money availed by the Cash Credit limit?
You can use the funds to cover your working capital needs and business growth.
Who is eligible for this Cash Credit loan?
Any individual, manufacturer, trader, retailer, distributor, company, partnership, sole proprietorship, LLP, trust, or society can apply for a cash credit loan.
How do business loans and Cash Credits differ from one another?
A financial institution provides a term loan with a set interest rate and predefined repayment terms. On the other hand, cash credit is a credit limit offered by a bank to a business as a short-term working capital loan.
How do banks determine the loan limit?
The applicant's profile, relationship with the bank, the enterprise's financial stability, ability to repay the loan, and creditworthiness are considered when determining the cash credit limit.
Know more about Businesses loans