Billing Software for Logistics
The management of inventory for logistics companies can be a complex process. However, logistics invoice management software and customer portals have become increasingly crucial in streamlining it.
In addition, accurate cost calculation and timely invoicing are crucial for the financial stability of logistics companies, making billing software for logistics a vital component in the transportation business. Do not worry anymore because myBillBook is a comprehensive invoicing solution covering all logistics operations.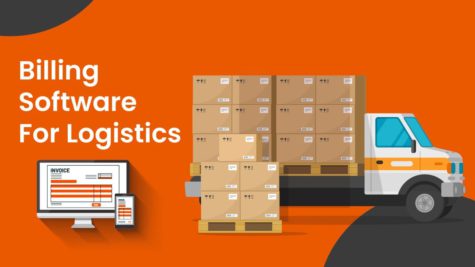 Why Use myBillBook's Billing Software for Logistics
Revolutionise Your Logistics Management with Our Billing Solution
Automated billing and payment
Quick GST filing and report generation
Tax laws compliance
Accurate billing
Instant quotes & efficiency savings
Faster payment through digital invoicing
Payment reminders for speed
Say Goodbye to Billing Headaches in Logistics
Real-time shipment tracking for accurate invoicing
Easy delivery tracking
Billing and payment performance insights for informed decision-making
Detailed reports and analytics
Improved collaboration within the organisation
Accounts payable/receivable, budget tracking, financial record management
Tamper-proof delivery challans
Quick e-way bill creation
Transform Logistics Billing with Cutting-Edge Technology
On-the-go invoice and payment management
Manage billing and payments from anywhere
Boost productivity with multi-user access
Centralised inventory management and monitoring
Auto low-stock alerts, no manual cataloguing
Full control of transportation finances
Four types of e-way bills with notifications
Easily trackable records.
Features of a Billing Software for Logistics
With various features designed explicitly for the logistics industry, myBillBook streamlines business operations and helps companies grow.
Effortless GST Invoicing: Automate the invoicing process with our software. It saves time and money by automating invoice generation, enabling you to file GST and generate reports quickly.
Tax Calculation: Automatically calculate and apply taxes to invoices based on regional laws and regulations. This helps ensure tax compliance and avoid penalties.
Integration with Shipping Systems: Integrate the billing software with shipping systems and track shipments in real-time to reflect the latest information in invoices. This helps keep track of shipments and ensure invoicing accuracy.
Reporting and Analytics: Generate detailed reports and analytics on invoicing and payment data. This helps gain insights into billing and payment performance to make informed decisions.
Multi-User Access: Allow multiple users to access the freight billing software for teamwork and collaboration within the organisation. This enhances productivity and efficiency by allowing multiple users to access billing information.
Mobile Accessibility: Access the billing software from mobile devices for on-the-go management of invoices and payments. This allows you to stay on top of billing and payment management even when away from the office.
Streamlined Inventory Management: Monitor, manage and restock items from a centralised dashboard, eliminating manual cataloguing and stock counts. Receive automated low-stock alerts to keep ahead of demand.
Financial Control: Get complete control of transportation finances with our freight billing software, which allows for managing accounts payable and receivable, budget tracking, and generating financial records for filing IT or VAT returns.
Quick Payment Collection: Speed up the billing process and get paid faster by easily sharing invoices with customers and receiving digital payments. The software also includes payment reminder features to help collect payments more quickly.
Secure Delivery Documentation: Generate tamper-proof and signed delivery challans on time to ensure goods are safely delivered, and records are easily stored for tracking.
E-way Bill Generation: Quickly create e-way bills with our freight billing software, which supports four e-way bills and notifications. Share e-way bills via WhatsApp or email.
Accurate Quoting & Estimating: Streamline the billing process and improve accuracy with our software's instant estimates and quotes feature, which saves time and increases efficiency.
FAQs on Billing Software for Logistics
Is billing software for logistics suitable for small businesses?
Yes, billing software for logistics can be used by businesses of all sizes, including small businesses.
Can multiple users access the billing software for logistics simultaneously?
Yes, most billing software for logistics solutions offers multi-user access, allowing multiple users to access the software for teamwork and collaboration within the organisation.
Does billing software for logistics integrate with shipping systems?
Many billing software for logistics solutions offers integration with shipping systems, enabling real-time shipment tracking and improving invoicing accuracy.
Can I access billing software for logistics on mobile devices?
Yes, many billing software for logistics solutions offers mobile accessibility, enabling users to manage invoices and payments on-the-go.
Can billing software for logistics generate e-way bills?
Yes, some billing software for logistics solutions includes e-way bill generation features, making creating and sharing e-way bills easier.
Know more about Billing Software & Billing Format