Tyre Shop Billing & Inventory Management Software
Tyre shop invoicing and billing software enable tyre shops to effectively manage billing, inventory, accounting, customer and staff management, multiple store management and many other things with a single application.
myBillBook is a cloud-based billing and inventory management software for tyre shops that enables businesses to entire cash flow from one place. Discussed here are the different features offered by myBillBook for tyre shop businesses.
The Tire shop management software is a simple POS that helps tire shops effectively manage tire inventory, billing, accounting, customer management and many more.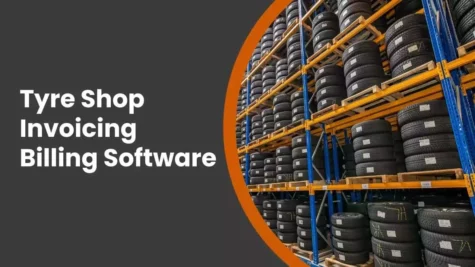 Features of Tyre Shop Invoicing & Billing Software
GST-Compliant & Digitally Signed Invoices
Create both GST & non-GST invoices using myBillBook invoicing and billing software for tyre shops. Customise the invoices as per your business need and start creating invoices in seconds. You can also digitally sign the invoices to make them more authorised. Other invoicing features available in myBillBook include adding custom fields and removing irrelevant fields, choosing an invoice theme that matches your brand, and many more.
Easy Barcode Generation & Scanning
The barcode generation feature available on myBillBook generates a unique barcode for each product of your tyre business. You can generate the barcode while adding the item to the product inventory of the software. Print the barcode, stick it on the product and during invoice creation, scan the code using a barcode scanner. The item is automatically added to the invoice, while the stock also gets adjusted simultaneously.
Track Tyre Shop Inventory
All products in your tyre shop can be tracked easily using myBillBook invoicing and billing software. Make entry of all the new products, like wheels, tyres, spare parts, nuts, bolts, etc., in the Items section of the software with the correct stock quantity. Whenever you create an invoice, the stocks get automatically adjusted. The software also alerts you when the stock is low, allowing you to refill the supplies on time. You can also view and download stock summary reports using the billing app to know your stock status.
Go Online
You can take your tyre business online by using the online market store option provided by myBillBook. You can list all your products, item descriptions, prices, pictures, and other details. Once your online store is loaded with all the tyre shop products, you can share the link with your customers. They can make purchases directly from the online store.
Manage Accounts & Staff
The billing app can efficiently track your tyre business cash flows by managing cash flows, tracking expenses, and adjusting ledger balances. Using the billing and invoicing app, you can also manage your staff attendance and payroll.
Customer Relationship Management
Send greetings, payment reminders, text messages, emails, promotional messages and wishes directly to your clients through the billing app. As all the customer information is recorded in the app, it becomes easy to send messages in bulk at no extra cost.
FAQs on Tyre Shop Invoicing & Billing Software
How helpful is myBillBook tyre shop billing & inventory management software for my business?
myBillBook billing software for tyre business helps manage and track customer interactions, sales, and inventory.
Is myBillBook billing software expensive?
We welcome you to use the myBillBook app for the first 14 days, following which you can subscribe to our yearly subscription plans priced at competitive market prices keeping Indian SMBs in mind.
How can I install myBillBook software on my laptop?
myBillBook is a cloud-based application designed as a web-based and app-based application. You can download the Android or iOS app of the application on your mobile or tablet, the Windows app for your PC or log in directly through the website.
Know more about Billing & Accounting Software for Small Businesses