Car Rental Bill Format
Whether you own a car rental agency or need to issue rental car bills for personal use, an accurate and detailed bill format is essential. A well-organised car rental bill format is crucial to maintain transparency and professionalism in the car rental business. As car travel services typically deal with various 4-wheelers and other automobiles, it's essential to provide a detailed description of the services offered to each client. A comprehensive bill format is thus required as it makes it easy for you to list everything so that it is clear to both parties. This page helps you know the key elements to include in a car rental bill format, different ways to create the templates and the best possible way to generate them.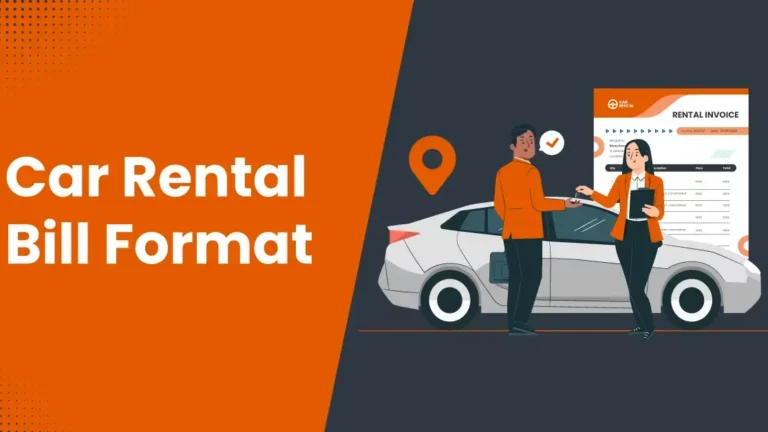 What is a Car Rental Bill Format?
A car rental bill format is a structured and detailed document used by car rental companies to provide an itemised breakdown of charges and services rendered to their customers. It is a formal invoice outlining the cost of renting a vehicle and any additional services availed during the rental period. 
The primary purpose of a rental car bill format is to create transparency and clarity in the billing process. It ensures that the car rental company and the customer are on the same page regarding the charges incurred and the payment due. Moreover, it acts as an official record of the transaction, providing a reference for any future disputes or clarifications.
Download myBillBook to Generate Bills
Key Fields to Include in a Car Rental Bill Format
A well-designed rental car bill format typically includes the following key elements:
Rental Agency Information

: This section includes the name, address, contact details, and GSTIN (Goods and Services Tax Identification Number) of the car rental agency.

Customer Details

: The bill includes the name, address, and contact information of the customer who rented the vehicle.

Rental Period

: It specifies the start date and time, as well as the end date and time of the rental period.

Vehicle Details

: This section provides information about the rented vehicle, such as the make, model, registration number, and type (e.g., sedan, SUV).

Charges Breakdown

: The car rental bill itemises the rental charges, including the base rate per day or hour, mileage charges, fuel charges (if applicable), and any additional services requested by the customer (e.g., GPS rental, child seat).

Taxes and Fees

: This part outlines the applicable taxes, such as GST, state taxes, or other government-imposed levies.

Security Deposit

: If a security deposit was collected at the time of rental, the bill specifies the amount and any terms related to its refund.

Terms and Conditions

: The car rental bill includes important terms and conditions related to the rental, such as mileage limits, insurance coverage, penalties for late returns or damages, and liabilities of both the rental agency and the customer.

Total Amount Due

: The final section displays the total amount payable by the customer, including all charges, taxes, and any deductions (e.g., discounts).
Ways to Generate a Car Rental Bill Format
Manual Bill Template Creation:

If you prefer a hands-on approach, you can create a car rental bill format using word processing software such as Microsoft Word or Google Docs. However, it is essential to note that this method can be time-consuming and may lead to errors.

Using Excel Templates:

You can use pre-designed Excel templates to create car rental bill format. Although this option allows for some customisation, it may still not be the most efficient choice.

Using Invoicing Software:

Consider implementing invoicing software specifically designed for car rental businesses. This software provides pre-designed car rental bill templates, automatic calculations, and simple customisation options to streamline your invoicing process.
Benefits of Using myBillBook for Car Rental Bills
Using myBillBook to generate car rental bills offers a host of advantages that streamline the billing process and enhance the overall efficiency of car rental businesses. Here are some key benefits:
Professional and Customisable Templates

: With myBillBook, you can access well-designed car rental bill templates that can be modified to reflect your company's branding. Personalise your invoice by adding your company's logo, selecting the ideal colour scheme, and customising the layout to create a sleek and unique final product.

Saves Time

: With myBillBook, creating car rental bills is now faster and easier. The software automatically calculates rental fees, taxes, and extra services, saving you time and minimising the possibility of human errors.

Customer Data

: Our invoicing software securely stores customer information, rental history, and billing data in one convenient location. This simplifies accessing past invoices and customer details, making future transactions and record-keeping more efficient.

Cost Breakdown:

When using myBillBook for car rentals, customers receive bills that provide a thorough and transparent breakdown of all charges incurred. This level of detail helps to establish trust and promote positive relationships between customers and service providers.

Automatic Tax Calculations

: With myBillBook, tax calculations become effortless. It automatically computes all applicable taxes, such as GST and other regional taxes, to guarantee precise tax compliance. This reduces the load of manual tax calculations.

Secure Access to Data from Anywhere

: At myBillBook, we prioritise the protection of our customers' data and financial information. Our cloud-based system allows for easy access to all your travel business data with an internet connection anytime and anywhere.

Invoicing on the Go: With the myBillBook mobile app, you can easily create and send car rental bills while on the go. Regardless of whether you're at the rental location or elsewhere, you can quickly generate and share invoices with customers.
FAQs on Car Rental Bill Format
Can I add my car rental agency logo to the bill using myBillBook?
Yes, myBillBook allows you to easily add your agency logo for a personalised touch to the car rental bill.
Can I generate recurring car rental bills using myBillBook?
Absolutely, myBillBook enables you to set up recurring billing for hassle-free long-term rentals.
Can I access past car rental bills and customer data on myBillBook?
Yes, myBillBook securely stores all past bills and customer information, ensuring easy retrieval whenever needed.
Can I track the payment status of car rental bills using myBillBook?
Yes, myBillBook allows you to track payment statuses, view pending payments, and send payment reminders for car rental bills, ensuring better financial management.
Can I send car rental bills directly to customers via email or as downloadable PDFs using myBillBook?
Absolutely, myBillBook enables you to send car rental bills instantly to customers through email, Whatsapp or as downloadable PDFs, ensuring convenient and prompt delivery of invoices.
Know more about Billing Software & Billing Format