Pet Shop Billing Software
Running a pet shop involves more than just selling adorable pets and pet-related products. Every pet has different breeds, food, shelter, accessories, toys, and more. Hence, the major challenge in a pet shop business lies in effective inventory management. Managing everything manually might be possible, but it is time-consuming, error-prone, and requires much of your productive time. If you're running a busy pet shop, it is essential to consider a pet shop billing software like myBillBook that would help you manage your business more efficiently. This page will take you through the features offered by myBillBook for pet shop management and the benefits one can reap by using the pet shop billing software.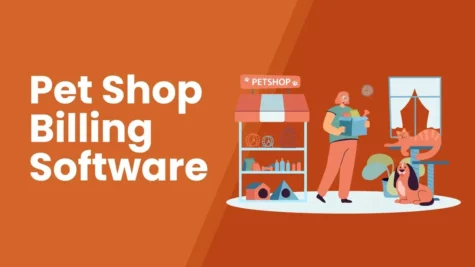 What is Pet Shop Billing Software?
Pet shop billing software is a specialised tool designed to help pet shop owners manage various aspects of their business, from invoicing and inventory management to sales and financial tracking. Pet shop billing software streamlines the billing process, making it easier to generate invoices, manage customer records, and keep track of pet-related products and services. Billing software like myBillBook is tailored to the specific needs of pet shop businesses, offering a user-friendly interface and a range of features to simplify your daily operations.
Features of myBillBook Pet Shop Billing Software
myBillBook may not be a specialised pet shop billing software. However, the features offered by the billing software would help pet shops run their business efficiently. Here is a list of myBillBook features for pet shops.
Create professional invoices quickly and efficiently.
Customise invoices with your pet shop's logo and branding.
Include itemised lists of products and services provided to customers.
Generate and send invoices to customers via email, Whatsapp or print them for in-store transactions.
Keep a detailed record of all pet-related products in your inventory, including pet food, accessories, grooming products, and more.
Set up low-stock alerts to ensure you never run out of essential items.
Easily add new products and update existing ones with accurate descriptions and pricing.
The POS billing feature speeds up the checkout process and improves customer experience.
This helps reduce waiting times and ensures a smooth checkout experience.
Integrated barcode scanning functionality makes it easy to scan pet products and accessories during checkout. This minimises the risk of errors in product selection and pricing.
POS billing is closely integrated with your pet shop's inventory management system. When a product is sold, it is automatically deducted from the inventory, helping you keep track of stock levels in real time.
The billing app easily retrieves customer information and purchase history, allowing you to provide personalised services, track customer preferences, and build stronger customer relationships.
Manage your pet shop from anywhere using the myBillBook mobile app.
Create, send, and track invoices on the go, ensuring you take advantage of every billing opportunity.
Keep track of your pet shop's expenses, such as rent, utilities, and staff salaries.
Categorise expenses to gain insights into your business's spending patterns.
Monitor and analyse your expenses to make informed financial decisions.
Generate a variety of reports to gain insights into your pet shop's performance.
Analyse sales trends, track specific products' popularity and identify growth areas.
Make data-driven decisions to optimise your business operations.
Benefits of Using myBillBook for Pet Shop Billing
Now that we've explored the features let's take a closer look at the benefits of using myBillBook Pet Shop Billing Software for your pet shop:
Efficiency and Time Savings: Switching to myBillBook streamlines your billing and invoicing process, reducing the time spent on manual paperwork. You can, hence, spend more time focusing on customer service and growing your pet shop business.
Accuracy and Error Reduction: With automated billing software, you can eliminate calculation errors and inconsistencies in your invoices. If your pet shop business is GST registered, you can also ensure accurate GST calculations and compliance with tax regulations by using myBillBook.
Customer Relationship Management: With a strong customer database, you can build stronger customer relationships by offering personalised services and promotions based on their purchase history. You can easily retrieve customer information for follow-ups and loyalty programs.
Know Your Pet Shop Performance: Using the detailed reports generated by myBillBook, you better understand your pet shop's financial health. You can identify profitable products and areas of improvement, leading to more cost savings.
Simplicity and User-Friendly Design: myBillBook offers a user-friendly interface that makes it easy for you and your staff to use the software without any training. You can use the app like any other app on your mobile.
Data Security:  Keep your financial data secure with advanced security measures and regular data backups offered by myBillBook. Protect your business from data loss or security breaches.
myBillBook Pet Shop Billing Software offers a comprehensive solution for pet shop owners to streamline their billing, inventory management, and financial tracking processes. Its user-friendly interface, mobile accessibility, and GST compliance features make it an invaluable tool for efficiently operating pet shops of all sizes. By embracing this software, pet shop owners can save time, reduce errors, and gain valuable insights into their business, ultimately contributing to its growth and success.
FAQs on myBillBook Pet Shop Billing Software
Is myBillBook Pet Shop Billing Software suitable for small and large pet shops?
myBillBook is designed to cater to the needs of pet shops of all sizes, from small stores to larger establishments. Its scalability ensures that it can adapt to your pet shop's growth.
Can I access my pet shop's financial data on the go with myBillBook?
myBillBook offers a mobile app for Android and iOS devices, allowing you to manage your pet shop's finances from anywhere and anytime.
How does myBillBook help with GST compliance for pet shops?
myBillBook automatically calculates GST for your invoices, ensuring you meet GST compliance requirements. It also generates GST-compliant reports for easy tax filing.
Is myBillBook Pet Shop Billing Software secure and reliable?
myBillBook prioritises data security. It includes robust security measures and regular data backups to protect your pet shop's financial data.
Can I customise invoices with my pet shop's branding using myBillBook?
myBillBook lets you personalise your invoices with your pet shop's logo and branding, giving them a professional and customised appearance.
Know more about Billing Software & Billing Format