Be Wise 
Compare Before You Make A Choice
Know why myBillBook is the most preferred business management software for small and medium businesses
Click to Compare myBillBook,
With Vyapar, Marg, Tally, and Zoho Books

What Makes myBillBook the Best Billing Software in the Market

GST Invoicing/Billing
Easily generate both GST and non-GST invoices and share them with clients through Whatsapp and e-mail.

Inventory Management
Keep track of stock levels in real-time to ensure the availability of enough inventory to meet customers' needs.

Accounting Made Easy
Helps track expenses, record sales & purchases, maintain ledgers, and manage accounts payable/receivable.

e-Way Bills
Generate e-Way bills to comply with GST regulations and manage your transportation logistics efficiently. Generate 4 types of e-Way bills – regular, Bill to ship to, bill from dispatch from & a combination of the last two.

Professional Quotations 
Impress customers with professional quotes or estimates. Convert quotations into invoices in a single click.

Manage Accounts Receivable/Payable
Record all cash, bank, and credit transactions and keep track of complete finances. Also, track pending payments and payments due from your end.

Faster Payments Collection
Send automated payment reminders to parties due for payment. Also, send invoices via SMS & WhatsApp. Get paid faster and grow your business.

Business Reports
With insightful reports, make data-driven decisions and identify growth opportunities. Get more than 20 business reports that help improve the operational efficiency of the business.

Delivery Challan
Generate delivery challans quickly and manage your delivery processes efficiently, ensuring timely delivery to your customers.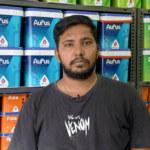 "I first only used myBillBook to create e-Invoices, but over time I switched all of my invoicing, accounting, and payment collecting to myBillBook. I transferred my data from Tally to this modern, much more economical programme. The item library feature and POS billing are quite helpful for my business."
– Hemanth
Owner – Enn Industries
Chennai, Tamilnadu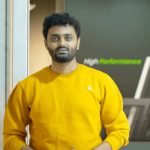 "With only one software, I could handle billing, inventory control, GSTR reporting, payment collecting, scheduling payment, low stock reminders, and accounting. To make delivery challans and e-way bills, I was no longer dependent on any other software or apps. Through myBillBook, I can now effortlessly make e-Invoices, saving me a tonne of time and work. The ideal method to digitize your company's operations! "

– Sanjeev Rajeev Gowda
Owner – Pencil Mark Interior Solution
HSR Layout, Banglore
myBillBook Vs. Other Apps
Here is a detailed comparison of myBillBook with the other apps.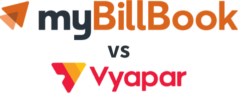 myBillBook Vs. Vyapar
Compared to Vyapar, myBillBook billing software has an easy-to-use interface that allows you to easily create invoices and manage accounting tasks. The most user-preferred features, like iOS mobile app, POS billing, and Whatsapp marketing, are available exclusively on myBillBook invoicing software, not on Vyapar.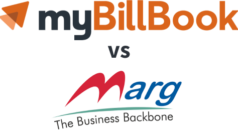 myBillBook Vs. Marg Books
As per the user reviews, Marg Books has been designed with a difficult user interface. Using the billing app might become challenging for a regular business owner. On the other hand, myBillBook is known for its easy user interface and simple design.
While myBillBook provides 24/7 customer support with both call and chat options, the customer support team of Marg is a little difficult to approach. Most Marg users mentioned their bad experience in approaching the customer support team.
Besides, the basic subscription of Marg Books is 3.5X more than myBillBook's basic subscription plan.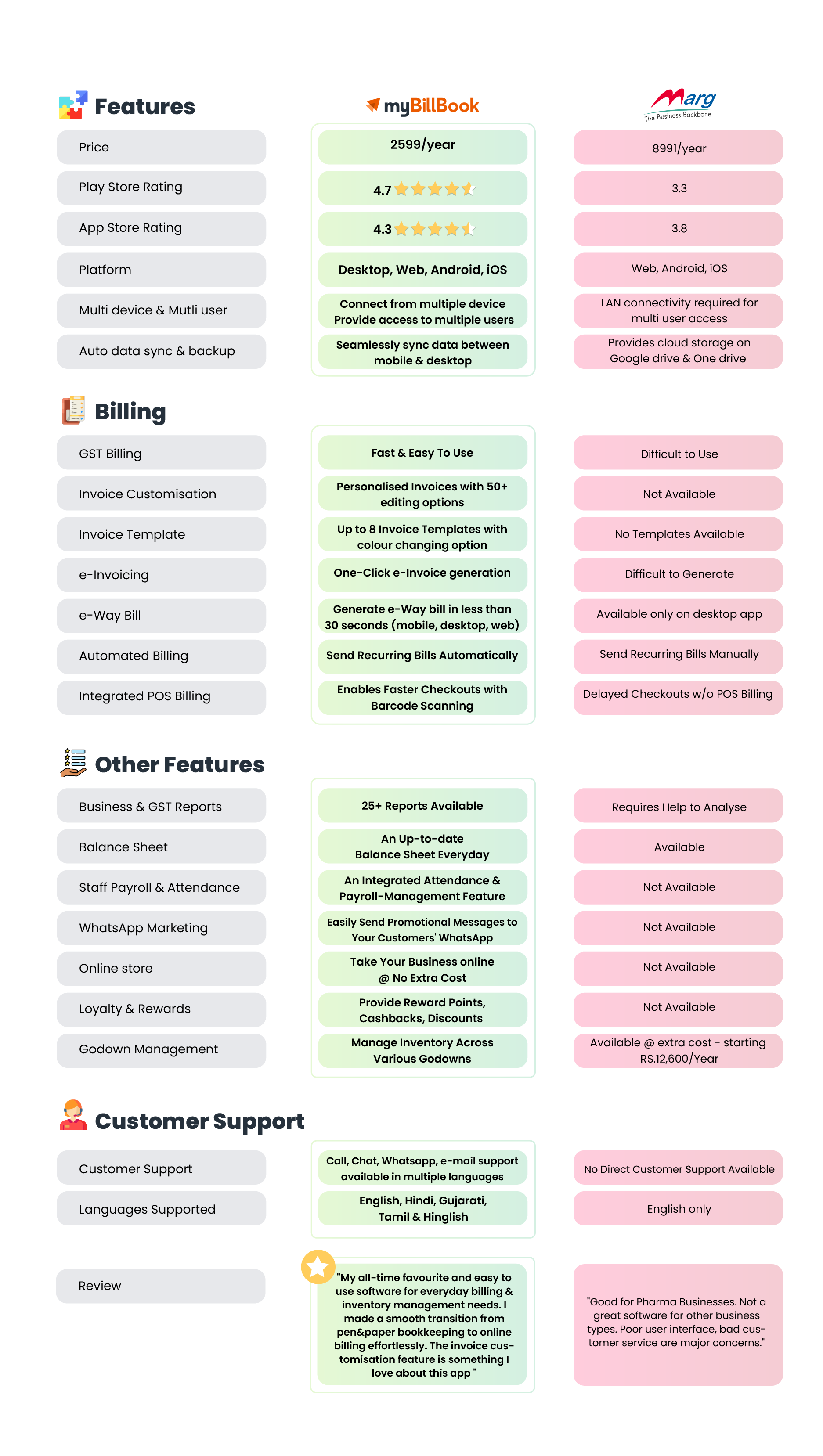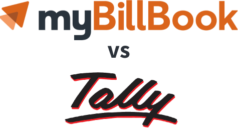 myBillBook Vs. Tally
Tally is comprehensive accounting software that also comes with a higher price tag. It's not a cloud-based application, thus limiting your access to only one PC on which the software is installed.
Further, you must have advanced accounting knowledge to use Tally. It also lacks user-friendly features like Whatsapp marketing, automated billing, POS billings, staff management, etc.
Compared with Tally, myBillBook is simple and easy-to-use billing software that is affordable even by micro-enterprises. Further, it offers all the above features that help businesses establish a strong connection with their customers and to run their business effortlessly.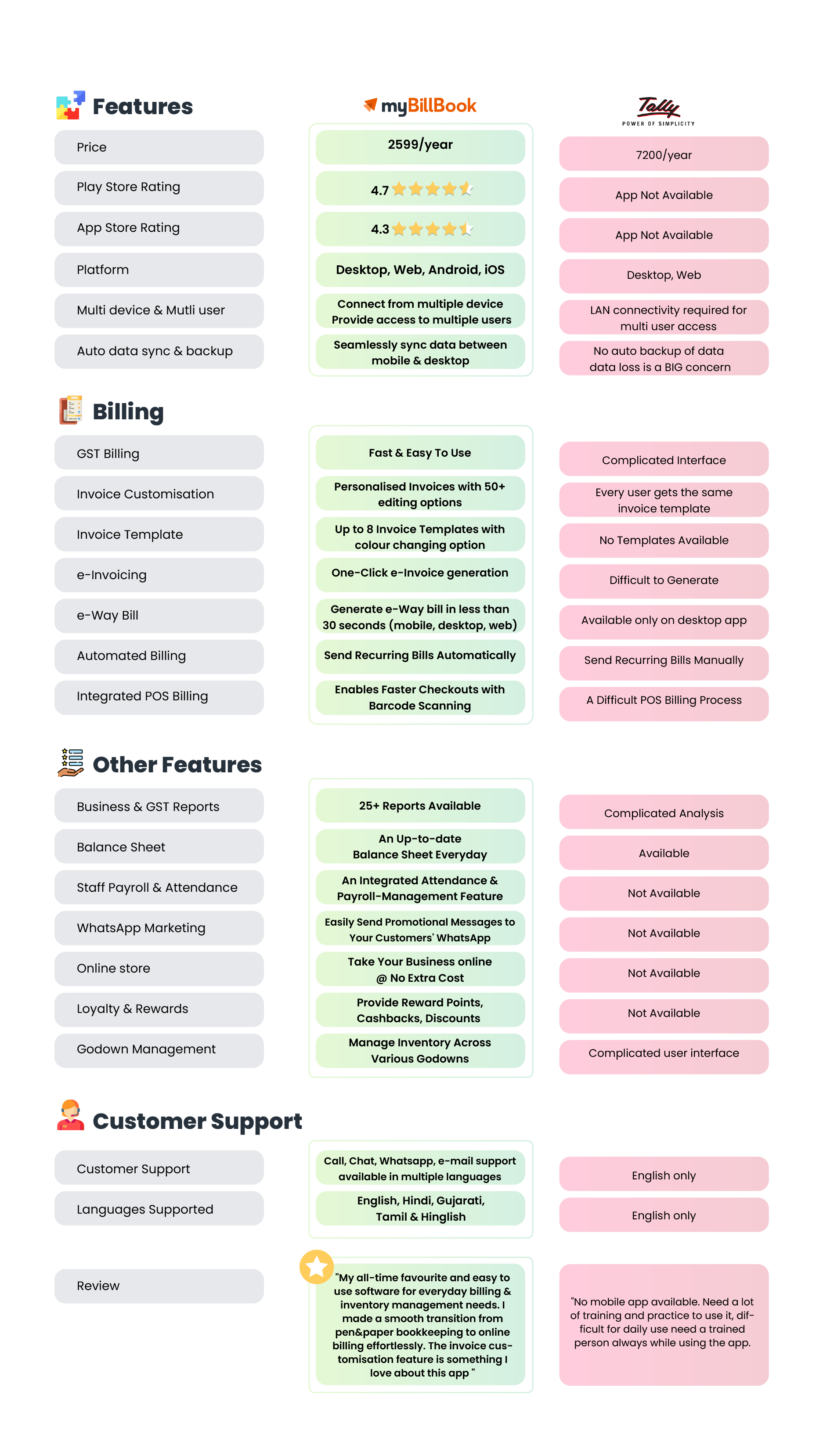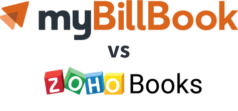 myBillBook Vs. Zoho Books
Zoho Books offers almost all the features of myBillBook but at a higher price. Zoho is 3.5X more expensive than myBillBook. Further, myBillBook is exclusively tailored for Indian businesses, while the former is not. Some of the key features are found to be missing in Zoho Books, making myBillBook the best billing software at an affordable price.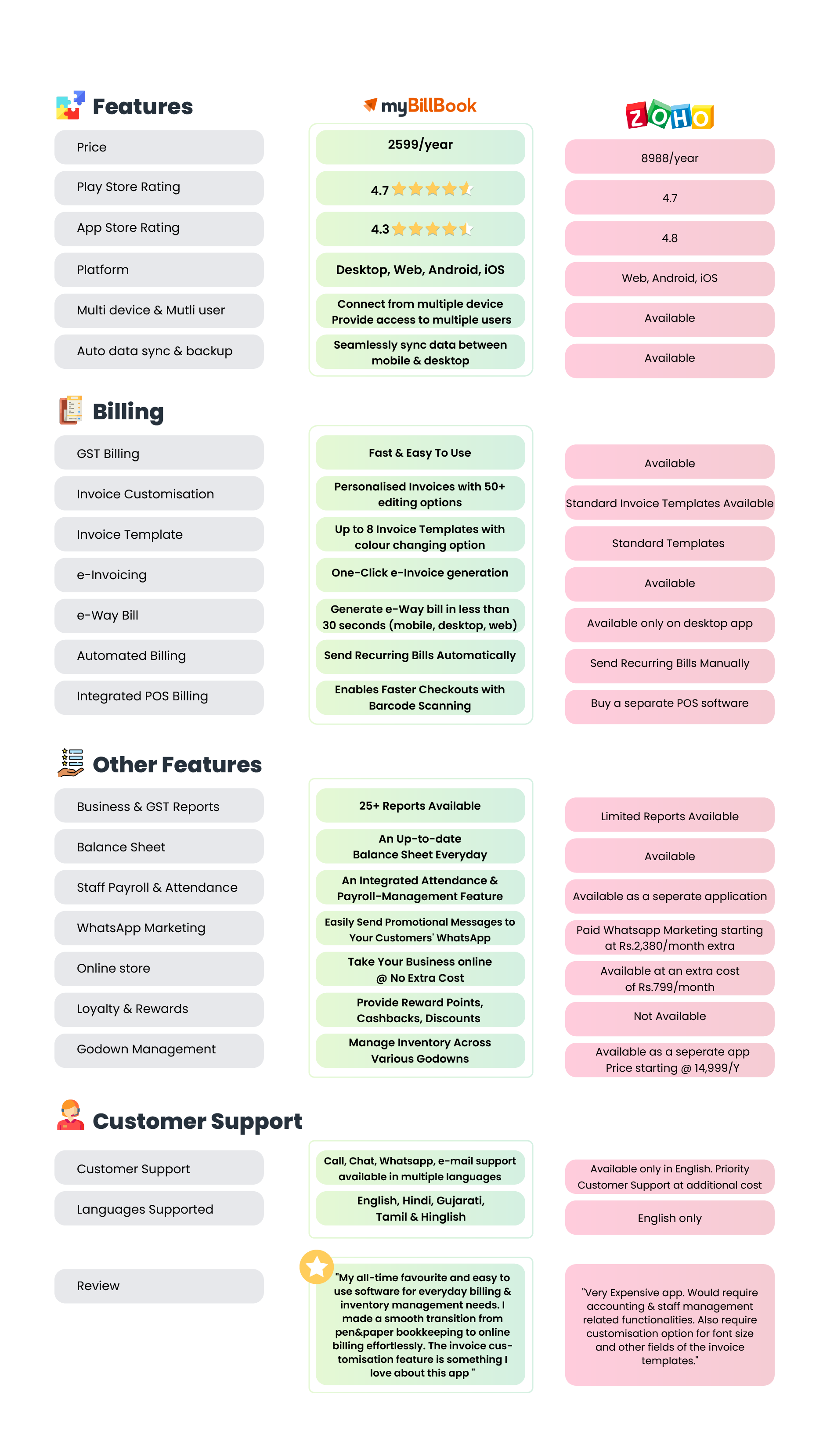 FAQs

How many days of free trial does myBillBook offer compared to its competitors?
myBillBook offers a 14-day trial period compared to Vyapar – 15 days, Marg Books – 7 days, Tally – 30 days, and ZohoBooks – 14 days.
Do I need accounting knowledge to use myBillBook billing software?
Unlike other billing software like Tally, you don't need any accounting knowledge or accounting personnel to use myBillBook.
Can I migrate from other billing apps to myBillBook billing software?
You can easily migrate from any billing software, like Vyapar, Marg Books, Tally, and other custom software, to myBillBook. Import parties and items data directly from other software in a single click.
Which billing software is best for small businesses?
myBillBook billing and accounting software is a made-in-India product exclusively designed for small and medium businesses in India. Its mission is to accelerate the growth of Indian SMBs through digitisation. myBillBook thus serves the billing and accounting needs of Indian SMBs much better than any other billing software in the industry.
What are the benefits of using myBillBook billing software?
myBillBook billing software offers the following benefits.
Faster and efficient billing & accounting
Error-free invoice generation
Tax-compliant invoicing
Better decision-making with detailed business reports
Saves time and cost
Safe and secure data
Reliable e-invoicing
Accurate inventory tracking
Efficient cashflow management
Track business performance from anywhere
Sell online and much more