myBillBook Vs. Marg Books
Compare to Know Which Billing Software Makes Your Billing & Invoicing Process Hassle-Free
Easy to Use or Difficult to Browse – What Would be Your Choice?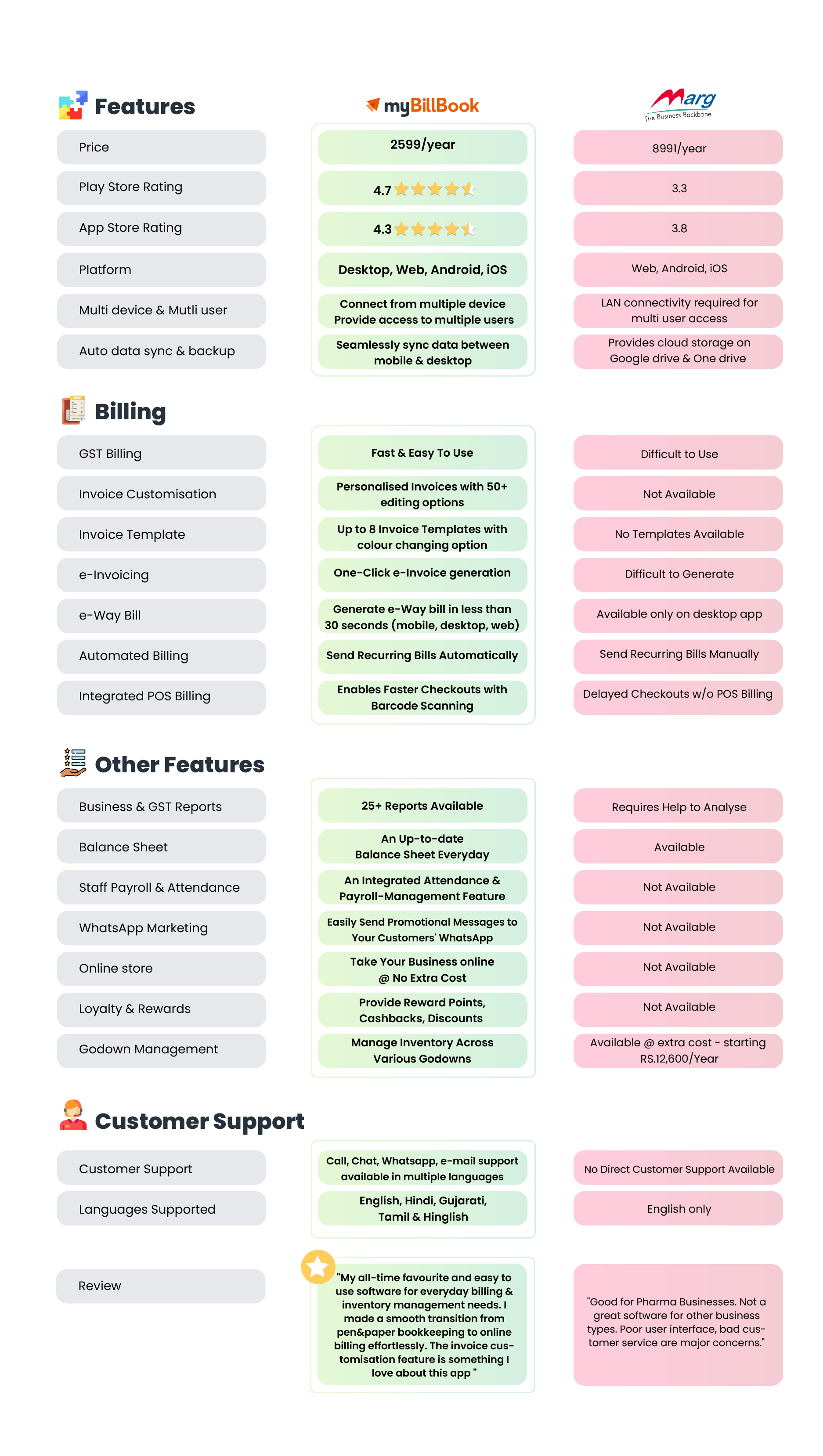 Key Features of myBillBook that Make it Super Functional for SMBs

GST Billing
GST billing becomes incredibly easy and user-friendly. myBillBook automates the entire GST calculation process, ensuring accurate tax calculations without any manual effort. Generates GST-compliant invoices, automatically incorporating the required tax rates, HSN codes, and other essential GST components.

Inventory Management
Efficient inventory management is made effortless with myBillBook. The software provides comprehensive features to track and control your inventory, allowing you to easily manage stock levels, monitor product movement, and streamline your supply chain. It provides real-time updates, customised alerts for low stock, and detailed inventory reports.

E-invoicing
myBillBook facilitates seamless integration with the government's e-invoicing system, allowing for direct submission of invoices to the Invoice Registration Portal (IRP). Generate and send e-invoices in compliance with government regulations, eliminating manual paperwork, reducing errors, and enhancing efficiency. 

Godown Management
Efficient godown management becomes effortless with myBillBook. Easily track stock levels, transfer stock between godowns, allocate stock to specific locations and gain insights into available storage capacity. Streamline your inventory management, optimise space utilisation, and ensure smooth operations across multiple godowns.

Staff Attendance & Payroll
Track and manage employee attendance, automate payroll calculations, accurately calculate salaries based on attendance data. Save valuable time with myBillBook's staff attendance and payroll features.

e-Way Billing
myBillBook enables businesses to generate and manage e-Way Bills with ease. The software seamlessly integrates with the e-Way Bill portal, allowing you to generate, update, and track e-Way Bills directly from the platform. Experience streamlined e-Way billing with myBillBook and simplify your compliance process.

Automated Bills
myBillBook automates the creation and generation of bills, saving time and effort while ensuring accuracy. By setting up recurring billing schedules, it automatically generates bills at specified intervals for recurring services or supplies. This eliminates the need for manual invoicing and ensures timely billing for repetitive transactions.

Business Reports
Comprehensive business reporting to gain valuable insights into various aspects of your business. Make informed decisions, identify trends, analyze key metrics, and track the overall health of your business. Drive your business forward with data-driven insights.

Delivery Challans
Simplify your delivery processes and maintain accurate records with myBillBook's delivery challan feature. The software allows you to track and manage the movement of goods during transit, ensuring seamless order fulfilment and effective inventory management.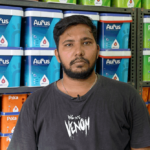 "I first only used myBillBook to create e-Invoices, but over time I switched all of my invoicing, accounting, and payment collecting to myBillBook. I transferred my data from Tally to this modern, much more economical programme. The item library feature and POS billing are quite helpful for my business."
– Hemanth
Owner – Enn Industries
Chennai, Tamilnadu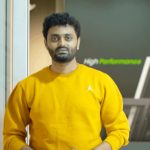 "With only one software, I could handle billing, inventory control, GSTR reporting, payment collecting, scheduling payment, low stock reminders, and accounting. To make delivery challans and e-way bills, I was no longer dependent on any other software or apps. Through myBillBook, I can now effortlessly make e-Invoices, saving me a tonne of time and work. The ideal method to digitize your company's operations! "

– Sanjeev Rajeev Gowda
Owner – Pencil Mark Interior Solution
HSR Layout, Banglore

FAQs

Can I customise invoice designs in myBillBook and Marg Books?
The invoice customisation feature is available only on myBillBook. Marg Books does not offer any such feature; hence users are required to use the standard invoice template.
Is e-Way billing feature available in Marg?
The e-Way billing feature is available only in the desktop version of Marg Books but not on the mobile app. But in myBillBook, you can find the feature on all the platforms, Android, iOS, and Web.
Can I send automated bills using the billing software?
Automated Billing is a functional feature available on myBillBook at no extra cost. However, the same is not available on Marg. Users need to send recurring bills manually. 
What is the key difference between myBillBook and Marg?
myBillBook is a cloud-based billing and invoicing software designed for small businesses, while Marg is a comprehensive business management software that offers various modules, including billing, inventory, accounting, and more.
Can I integrate myBillBook/Marg with other applications?
myBillBook offers integration with popular accounting software such as Tally, QuickBooks, and Zoho Books, enabling seamless data transfer. Marg, on the other hand, offers integrations with various modules within its own software ecosystem.
Does myBillBook/Marg support multi-location businesses?
Both myBillBook and Marg offer features to support multi-location businesses. They allow users to manage multiple branches or stores and consolidate data for centralized monitoring and reporting.