Compare to Know Which Billing Software Enables You to Create Bills From Anywhere
Billing Software with Multi-User Access or Single PC Access – What Would be Your Choice?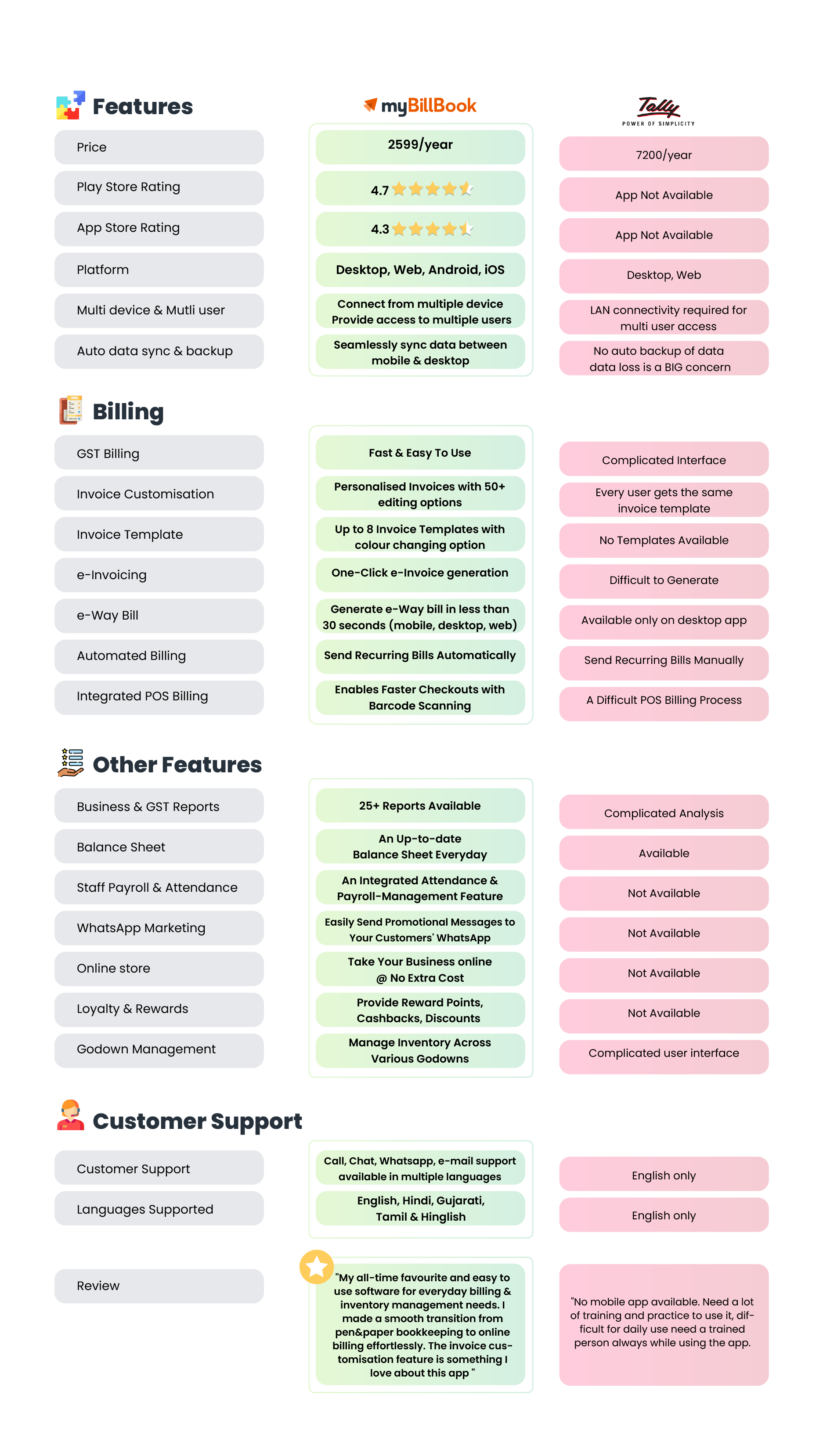 Key Features of myBillBook that Make it Super Functional for SMBs

GST Billing
myBillBook empowers businesses to seamlessly generate invoices for GST and non-GST transactions, providing a comprehensive solution for streamlined billing regardless of tax applicability. Easily toggle between GST and non-GST billing options and enjoy smooth invoicing for a wide range of transactions.

Inventory Management
myBillBook simplifies stock management by providing real-time visibility into inventory quantities, facilitating seamless stock adjustments, and generating detailed reports to aid in making informed inventory management decisions. Receive alerts for low stock and ensure timely stock replenishment and prevent stockouts.

E-invoicing
With myBillBook's e-invoicing feature, you can create professional and standardised digital invoices, eliminating the need for manual paperwork and reducing the chances of errors. E-invoicing enables businesses to streamline their invoicing process, improve efficiency, and enhance cash flow management. 

Godown Management
Easily track and manage inventory across different physical locations. Create and assign specific godowns to your products for accurate stock tracking, transfer between godowns, and visibility into stock levels at each location. Optimise your godown operations, improve inventory accuracy, and streamline stock movement for better overall inventory management.

Staff Attendance & Payroll
Easily record and monitor employee attendance, whether through manual entry or integration with attendance devices. The system calculates working hours, overtime, leaves, and other attendance-related data, streamlining payroll processing.

e-Way Billing
The e-Way billing feature allows users to conveniently create, manage, and update e-Way bills, ensuring smooth and compliant transportation of goods while minimising manual paperwork and errors. Facilitates the generation and management of electronic documentation for the movement of goods. 

Automated Bills
Automated billing is a time-saving feature to streamline billing processes through automation. Set up recurring billing cycles for products or services and eliminate the need for manual invoice generation for regular customers. Ensure timely billing, reduces errors, and improve cash flow management.

Business Reports
Generates a wide range of reports to gain insights into your financial performance and operations. Reports on various business aspects, like sales, inventory, expenses, customer behaviour, etc., provide valuable insights to make data-driven decisions, identify areas for improvement, and monitor the overall performance of the business.

Sales Quotations
Create professional and detailed price estimates for your products or services. Easily customise and generate quotations with itemised pricing, quantities, discounts, and terms. Enables you to respond to customer inquiries and provide accurate cost estimates quickly. Convert quotations into invoices in a single click.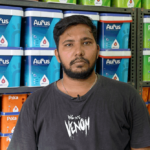 "I first only used myBillBook to create e-Invoices, but over time I switched all of my invoicing, accounting, and payment collecting to myBillBook. I transferred my data from Tally to this modern, much more economical programme. The item library feature and POS billing are quite helpful for my business."
– Hemanth
Owner – Enn Industries
Chennai, Tamilnadu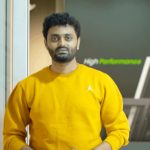 "With only one software, I could handle billing, inventory control, GSTR reporting, payment collecting, scheduling payment, low stock reminders, and accounting. To make delivery challans and e-way bills, I was no longer dependent on any other software or apps. Through myBillBook, I can now effortlessly make e-Invoices, saving me a tonne of time and work. The ideal method to digitize your company's operations! "

– Sanjeev Rajeev Gowda
Owner – Pencil Mark Interior Solution
HSR Layout, Banglore

FAQs

What is the main difference between myBillBook and Tally?
myBillBook is primarily a cloud-based billing and invoicing software designed specifically for small businesses. It offers features tailored to streamline billing processes, manage invoices, and ensure GST compliance. On the other hand, Tally is a comprehensive business management software that encompasses a wide range of functionalities beyond billing, including accounting, inventory management, financial reporting, and more. Tally caters to businesses with more extensive requirements for overall business operations, while myBillBook provides a focused solution for efficient billing and invoicing.
Which billing software is suitable for small businesses?
Relatively, myBillBook is more suitable for small businesses than Tally. myBillBook's focus on billing and invoicing makes it particularly well-suited for businesses with simpler requirements.
Does myBillBook and Tally offer customisation options for invoices?
myBillBook allows users to customise invoice templates, add their business logo, customise invoice fields, and personalise the layout to match their brand identity, ensuring professional and branded invoices. On the other hand, Tally does not have such a personalisation feature. 
Which is easy to set up and use – myBillBook or Tally?
In terms of simplicity and ease of installation, myBillBook is often easier to set up and use than Tally. myBillBook offers a clean and intuitive interface with straightforward navigation, making it easier for users to get started quickly. The software requires minimal training or technical expertise to use.
On the other hand, Tally, with its complicated user interface and features, requires more time for initial setup and configuration. Some users may find it more complex compared to myBillBook. Only trained professionals can use the software with ease. 
Does myBillBook and Tally provide mobile access?
Yes, myBillBook offers dedicated mobile apps for iOS and Android devices, enabling users to manage their billing, invoices, and customer data on the go. Tally, on the other hand, do not have any mobile applications only offers desktop-based application.