myBillBook with Vyapar, Marg, Tally, and Zoho Books
myBillBook has emerged as one of India's best GST accounting and billing software. If you're looking for an affordable alternative to your existing accounting software – Vyapar, Tally, Marg, or Zoho, myBillBook is the best option to consider.
Comparing the best features of all the softwares provides a better idea as to why myBillBook is the best choice for your accounting and billing needs. Tailor-made for small and medium businesses in India, myBillBook accounting software offers the best invoicing, billing, inventory & cash flow management services for your business.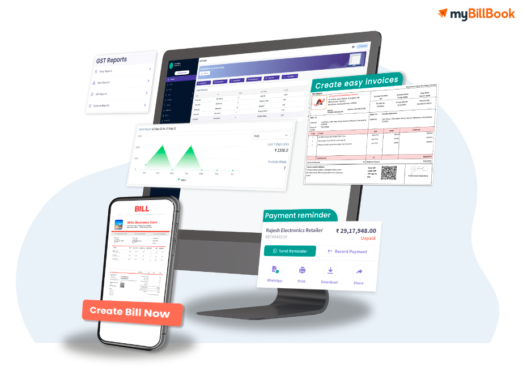 Compare myBillBook With Other Apps?
myBillBook Vs. Vyapar
Compared to Vyapar, myBillBook offers affordable pricing plans, a multi-lingual interface,  Smart Collect feature that enables faster payments, e-way Bill generation and other exciting features that make the accounting platform a better alternative to Vyapar.
myBillBook Vs. Marg
Though Marg ERP inventory and accounting software has been in the industry for so long, it's not a customized software for billing and accounting operations.
It is an enterprise software solution that provides enterprise-related services along with accounting and billing. Hence, it is priced higher than any other software in the market.
Only trained professionals can use the software as it is a little tricky to understand on our own. Another drawback of the software is that you cannot just opt for the accounting and billing packages. Instead, you have to buy the entire enterprise package even when not required.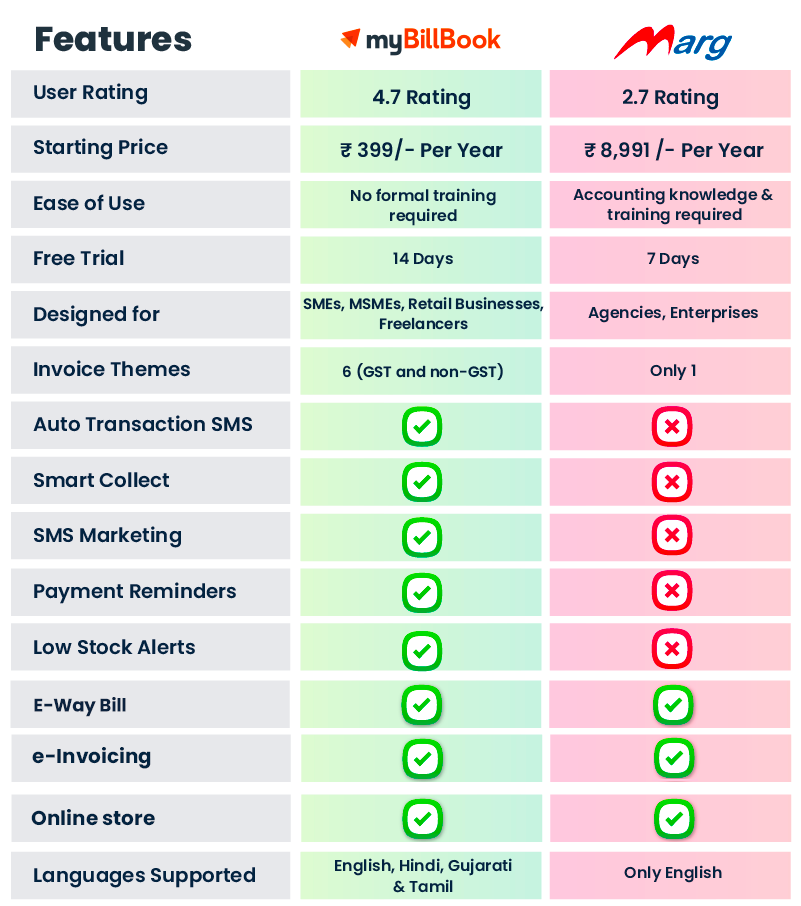 myBillBook Vs. Tally
Tally is another business accounting software that provides a comprehensive accounting solution instead of just an accounting and billing application. Users seriously need some accounting knowledge to use the software.
Since it is a comprehensive package, it comes with a hefty price tag. Once you buy the license for the Tally software, you need to install it on your PC. It is thus available only on the PCs on which it is installed limiting its accessibility. Further, it does not provide smart features like payment collections, SMS reminders, low stock alerts, etc.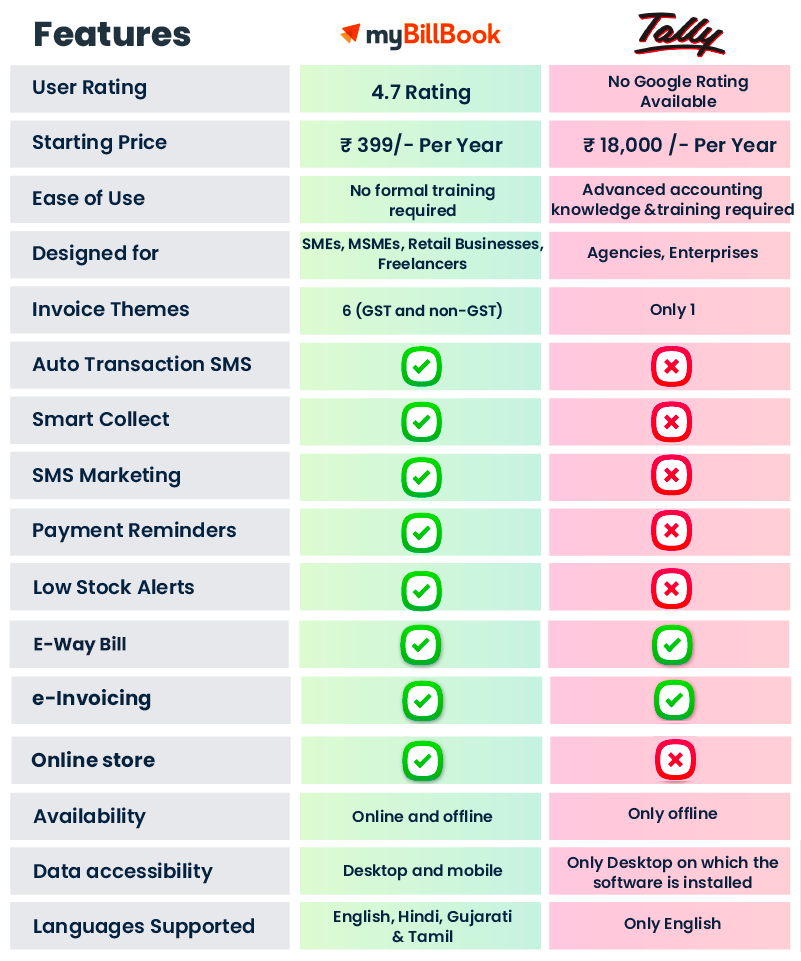 myBillBook Vs. Zoho Books
Zoho Books is another accounting and billing software that offers similar features to myBillBook. However, the cost at which it offers the same features is almost 20 times higher than that of myBillBook.
Moreover, since it is also available in other countries, it might miss the customization required for Indian businesses. So, if you're looking for affordable accounting software that offers all premium features, myBillBook is the best choice.
The Most Promising Features of myBillBook
myBillBook invoicing software is a Made in India product designed after carefully analyzing the business needs of small and medium businesses in India. While most billing software products like QuickBooks, Tally, Marg, etc., are not India-specific, myBillBook is offered only in India with a mission to accelerate the growth of Indian SMBs through digitization.
The intuitive interface of the application, powered with competitive features and advanced security, helps wholesalers, retailers, manufacturers, distributors, and traders in doing their business with ease. Below are some of the key features offered by myBillBook billing software. 
Professional invoice generation

Creates Quotations, Delivery Challans, & Proforma Invoices 

Shares invoices online

Inventory Management

POS Billing

Smart Collect to collect payments online

Provides Business reports to analyze business performance

Sends customizable business cards & greetings

Data-rich dashboard

Staff Management

E-way bill creation in 10 seconds