Garment Shop Billing Software
Garment shop billing software is highly recommended for all kinds of garment shops. Whether you're running a small textile shop, a big readymade showroom or a wholesale supplier of garments, the billing software for cloth shops is a great value addition. From super-fast GST billing, stock management, barcode generation and scanning to e-commerce integrations, myBillBook garment shop billing software has it all.
myBillBook is a cloud-based invoicing and accounting platform designed to cater to all kinds of businesses. Its easy user interface and versatile features help garment businesses conduct business with much ease. Let's look into the features offered by myBillBook cloth shop billing software to help you understand the app better.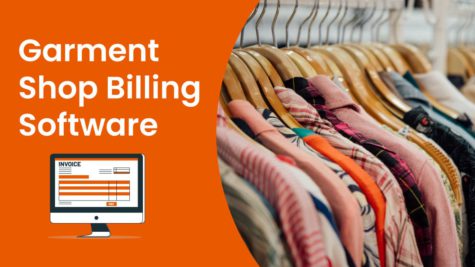 Features of myBillBook Garment Shop Billing Software
GST/Non-Billing: Whether you're a GST-registered garment shop or a non-GST registered cloth shop, you can generate both types of invoices – GST and non-GST using myBillBook billing software. One-click on the 'Create Sales Invoice' button, enter the details or scan the product barcode to let the software capture all the details. That's it! your invoice will be ready in seconds.
Not just sales invoices, the cloth shop billing software also allows you to create quotations, sales returns, credit notes, delivery challans, and proforma invoices.
Item Inventory: As a garment store, you must offer a wide variety of textiles. Entering each and every item manually during invoice creation is not an easy task.
The garment shop billing software offers 'Item Inventory' option to enter the details of all your products into the software. Click on 'Create Item', and add general details like item name, category, item code, description, price details, HSN code, GST% and image. For stock-related information, you can enter stock details like the number of units, opening stock, date, etc. You can also bulk upload items from your existing software or any Excel into myBillBook
POS Billing: For a retail garment business, point-of-sale billing is an important process as it directly relates to customer satisfaction. The lesser the queues at the checkout terminal, the happier the customers are. To achieve this, the cloth shop software offers an independent feature – the POS billing system. As this is a part of the billing software, you don't have to invest in another POS system separately.
POS billing allows you to generate bills quickly and efficiently. You can directly scan the product barcode to add it to the invoice, use the multiple billing options to hold and create multiple invoices at the same time, save time by choosing the item first billing option, easily find products, and finally generate bills in seconds.
Barcode Generation and Scanning: The billing software for garment shops helps you generate bar codes easily. When entering product details into the software, you will find an option to generate a barcode. Simply click on the option, and the app automatically generates a unique barcode for every product.
Once you have a unique barcode for every product, invoicing becomes easy using a barcode scanner. While generating invoices, simply scan the barcode on the product to get its details added to the bill in no time.
Inventory Management: The app automatically updates the stock whenever a sale happens. It also alerts you when any product is about to go out of stock. This way, you can prevent low-stock as well as overstock situations.
These are just a few. The garment shop billing software also provides many other features like staff management, Whatsapp marketing, payroll processing, e-invoicing, e-way billing, and others. To know more about our billing app and its features, visit  myBillBook now!
FAQs on Garment Shop Billing Software
Can I file GST returns using myBillBook Garment Shop Billing Software?
myBillBook helps garment businesses to file their GST returns easily by generating GST reports of different types. Using the billing and accounting software, you can get GSTR-1, GSTR-2, GSTR-3b, GST Sales, GST Purchase, and other such GST reports.
Does myBillBook offer e-invoicing feature?
Yes, myBillBook offers e-invoicing feature for all the prime subscription members. The garment billing software provides automatic e-invoice generation, e-way bill generation using IRN, and GSTR1 reconciliation options under e-invoicing.
Can I use myBillBook cloth shop billing software on my mobile?
Yes, myBillBook is cloud-based software available on both mobile and desktop platforms. You can download either the Android app or the iOS app, and use the same login credentials to access your cloth business information on your mobile.
Know more about Billing Software & Billing Format