Business Loans in Karnataka
If you're looking for business loans in Karnataka, this page provides the details you need to know before applying for a business loan. From the different types of loans available in Karnataka to the various documents one needs to furnish to avail of a business loan in Karnataka, the page has it all. Continue reading to get complete details about business loans available in the state.
Business Loan Availability in Karnataka
Karnataka, known for its thriving business ecosystem and technological advancements, offers a suitable environment for startups, small businesses, and established enterprises to flourish. Banks and financial institutions in the state have long back realised the significance of entrepreneurship and designed tailored business loan solutions to cater to varying needs.Business loans in Karnataka encompass a broad spectrum of financial products, including term loans, working capital loans, machinery loans, and more. These loans help to fuel business growth, expand operations, launch new initiatives, and improve overall competitiveness. With competitive interest rates and flexible repayment options, business loans serve as a lifeline for entrepreneurs in Karnataka striving to turn their visions into reality.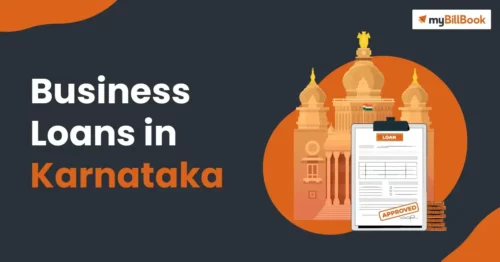 Types of Business Loans in Karnataka
Government and private organisations offer business loans in Karnataka, including government banks, public banks, non-banking financial companies (NBFCs), and more. Here's a list of all such sources that provide different types of business loans in the state.
Government Banks: Government-owned banks such as State Bank of India (SBI), Canara Bank, and Bank of Baroda offer a wide array of business loan products tailored to the needs of entrepreneurs in Karnataka. These banks often provide competitive interest rates, flexible repayment options, and favourable terms for startups, small businesses, and established enterprises.
Public Sector Banks: Public sector banks beyond government banks, like Punjab National Bank (PNB), Bank of India (BOI), and Union Bank of India, also extend business loan facilities to entrepreneurs in Karnataka. These banks leverage their vast network and experience to provide financial support that fuels business growth.
Private Sector Banks: Private sector banks like HDFC Bank, ICICI Bank, and Axis Bank are prominent players in the business loan landscape. These banks offer a wide range of loan products that cater to the diverse needs of businesses, accompanied by personalised services and streamlined application processes.
Non-Banking Financial Companies (NBFCs): NBFCs, such as Bajaj Finserv, Tata Capital, and Lendingkart, have emerged as alternative sources of business financing. With flexible eligibility criteria and quick approval processes, NBFCs provide a convenient option for entrepreneurs seeking funds to fuel expansion, innovation, and working capital needs.
Regional and Cooperative Banks: Regional cooperative banks, such as Karnataka State Co-operative Apex Bank (KSC Apex Bank), and local cooperative societies also play a vital role in providing financial assistance to businesses in the state. These institutions often have a deep understanding of the local business landscape and offer personalised solutions.
Government Schemes and Subsidies: The Government of Karnataka, in collaboration with central government initiatives, offers various government business loan schemes and subsidies to promote entrepreneurship and economic growth. Schemes like Mudra Yojana, Stand-Up India, and Credit Guarantee Fund Scheme aim to facilitate easy access to credit for businesses of all scales.
Online Lending Platforms: In the digital age, online lending platforms like Indifi, FlexiLoans, and Capital Float provide a convenient way to access business loans. These platforms offer quick loan processing, minimal documentation, and transparent terms, making them suitable for businesses seeking immediate financial support.
Documents Required for a Business Loan in Karnataka
The documentation process is crucial to obtaining a business loan in Karnataka. Here are the essential documents you'll need to provide
Identity Proof
Aadhaar/Passport/VoterID/Driving Licence or any government-approved identity card
Address Proof

Adhaar Card/ Passport/Voter's ID Card/Driving License/

Bank statements displaying the address

Business Proof

Business registration documents

For Sole Proprietorship Firms

Sole Proprietorship registration certificate
Trade licenses or relevant licenses and permits
Sole Prop. Declaration

For Partnership Firm

Partnership Deed
Partnership registration certificate

For Private Limited Company

Certificate of Incorporation/Shops and Establishment certificate
Memorandum of Association (MOA)
Articles of Association (AOA)

For Limited Liability Partnership (LLP)

LLP Agreement
Certificate of Incorporation

GST (Goods and Services Tax) Registration Certificate
Business PAN Card
Business bank statements for the past 6 months
Proof of Continuity

Income tax returns (ITR)
Trade license
Establishment/Sales Tax Certificate

Financial Documents

Balance Sheet for the past 2-3 years
Profit & Loss Statement for the past 2-3 years
Income tax returns (ITR) filed for the previous 2 to 3, including computation of income.
Bank statements (personal and business) for the past 6 months

For Secured Loans

Proof of Ownership or Collateral Documents (For Secured Loans)

Property deed
Sale agreement or possession letter if you are offering the property as collateral
Asset valuation documents (if applicable)

Business Plan (For new businesses)
Detailed business plan highlighting the company's operations, future projections, and how the loan will be utilised
KYC (Know Your Customer) Documents

Passport-size photographs

KYC forms (provided by the lender)
Also Check Business Loans in Other Cities/States