How To Run Your Business Safely During COVID-19?
The second wave of COVID-19 has disrupted many lives & businesses in India, especially SMEs. Usually, small business owners are used to setting goals & solving problems. But, the pandemic has left them in a difficult position in how to reopen and conduct their business safely during these uncertain times.
Even though state laws are allowing businesses to reopen, the details are not very clear to the owners. It is important for business owners to make plans to keep their customers & employees safe and day-to-day operations running smoothly during this 2nd wave. If you are a small business owner, here are some things you should do to keep your business safe during the COVID-19 second wave.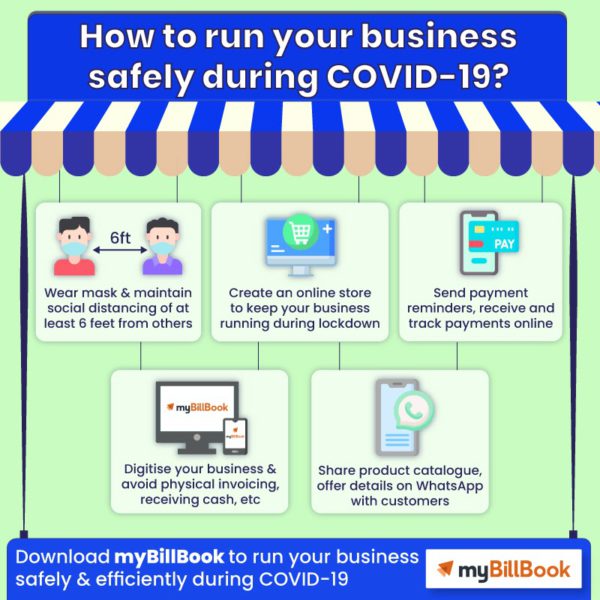 Wear mask & maintain social distancing of at least 6 feet from others – You should ensure that you, your customers & staff follow safety guidelines at all times in the workplace. To slow down the impact of this pandemic, you need to break the chain of virus spread and this can be only done if you maintain social distancing and wear a mask while stepping out.
Create an online store to keep your business running during lockdown – Take your business online. Setup an online store, create digital catalogues and trade through Whatsapp & Facebook to keep your business running & growing smoothly. You can make your online store using myBillBook and keep your business safe from COVID-19 spread.
Send payment reminders, receive & track payments online –  Since many lives are affected by this pandemic, you should try to avoid calling your customers for payments. Instead, you can send payment reminders directly to their Whatsapp and receive payments on time. myBillBook can help you send payment reminders on time and keep a track of your payables & receivables.
Digitise your business and avoid physical invoicing, receiving cash, etc – You should digitise your business transactions like invoicing, managing inventory, recording expenses, receiving & making payments, etc. It is advised to avoid dealing with cash or sharing paper invoices as it might lead to virus spread. You can use myBillBook, India's no.1 billing & accounting app for SMEs, to automate your business within a matter of minutes.
Share product catalogue, offer details on WhatsApp with customers – To avoid physical contact, you should share product catalogues, offer details, changes in business timings, etc on Whatsapp with your clients and potential customers.
Start using the myBillBook app and digitise your business to run it safely during COVID-19.
Know more about Business Ideas in India