Auto Repair Shop Invoicing Software
You take care of your customer's cars, and our auto repair shop invoicing software will make sure your billing and accounting tasks are running smoothly. myBillBook auto repair shop invoicing software takes care of all your billing requirements enabling you to focus on your business efficiently. You don't need any accounting knowledge to use the auto repair shop billing application.
myBillBook's auto repair shop billing software helps you create invoices in seconds, send professional quotes, convert estimates into invoices, manage your expenses, gain insights about your repair shop, and much more with a single app.
myBillBook is a cloud-based invoicing and accounting software that is available as a mobile and desktop application. You can also access the billing software through its website. Let's look at the features offered by myBillBook that would help you upgrade your auto repair business.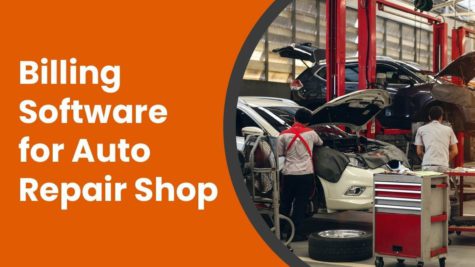 Features of myBillBook Billing Software for Grocery Stores
Instant Invoice Generation: It could be an auto repair order or a spare part sale, myBillBook generates professional invoices in seconds. Once you set the basic information, the app will automatically update the tax break-up, calculate the discounts and generate invoices swiftly. You can also pick up an invoice template that suits your auto shop image.
Send Estimates/Quotations: Help your clients make informed decisions by providing them with detailed estimates or quotations with a proper breakdown of auto repair costs and the price of spare parts. Once the client accepts the offer, you can convert the quote into an invoice with a single click.
Better Inventory Management: Auto repair shops often deal with many spare parts and equipment. Keeping track of them without proper bookkeeping is a difficult task. myBillBook's inventory management feature helps you track your inventory quite efficiently. You can also send purchase orders to the suppliers and sync them with the app.
Efficient Expense Tracking: Enter all your business expenses, including bills, purchase invoices and others – the app will automatically update your finances. In case of recurring expenses, the billing software will also remind your about the due dates so that you would never miss a payment.
Set Auto Reminders: May it be a payment reminder or a service due, you can gently remind your auto repair shop clients through the payment reminder feature available on myBillBook. You can either set auto reminders or send them manually through Whatsapp, e-mail or as a normal message.
Accept Online Payments: The billing app is integrated with more than five payment gateways to enable online payments.
Maintain Better Customer Relations: Save customer details, including their vehicle details, service dates, repairs made, etc. Schedule follow-ups using the app and remind your customers about the service dues. You can also wish and greet your customers on their special dates.
FAQs on Auto Repair Shop Invoicing Software
Can I try auto repair shop invoicing software before buying?
Yes, myBillBook auto repair shop offers a free trial period of 14 days, during which you can experience the app in real-time.
Can I use myBillBook auto repair shop invoicing software offline?
Yes, you can use the auto-billing shop app even without an internet connection. Once the connection restores, the data will sync automatically.
Can I create non-GST invoices using the auto mechanic shop software?
Yes, the software is designed to generate both GST and non-GST invoices. You need to select the option before creating an invoice.
Can multiple users use myBillBook repair shop invoice software simultaneously?
Yes, multiple users can login to the billing app using the same credentials. You can also login through various mobile, PC, and web devices using the same login details. The data gets synced automatically across the devices.
Can I customise the invoice format using the myBillBook application?
You can choose from eight invoice themes and colour options in the myBillBook application. Further, you can also customise the information on the invoice by selecting the fields to display, adding an invoice prefix and sequence number, and adding custom fields to your auto repair invoices.
Know more about Billing Software & Billing Format