It is an essential tool that the government departments and companies can use to print the invoice. You need to connect the thermal printer with a computer using the USB cable or wireless method for this tool. The paper for this printer depends on the amount of information that will be printed on it. Usually, there is an option where you can change the quality of the paper rolls in your machine.
A thermal printer is a machine that can be used for printing receipts, invoices and other official documentation. There are different models, and it is pretty common to find them in offices and business places. However, the need for a thermal printer has increased in the last few years with the surge of the use of the internet and e-commerce sites. There are numerous advantages of using a thermal printer, and therefore businesses all over are using this device which is very useful in saving time and money.
Advantages of thermal printer invoices:
Bundling
The print groupings option can be used to make an entire inventory list of equipment. It enables the user to print all the different items together on one sheet rather than manually. For example, a set of tyres, brakes, and other spare parts can be printed as a single item rather than individually. With this option enabled, a whole kit or pack can be printed at once, saving time and reducing errors in extensive inventories.
E-storage of invoices:
Instead of receiving another batch of your invoice invoiced for entering multiple bills and checks, you now receive relief from the bureaucracy of manual journaling. An electronic journal generates the same financial ledger statement as a paper journal, except in a "cleaner" format. This means that there will be no need to choose between using real versus virtual money to consider your bank statement because both will be reflected in the same way. With the elimination of entirely manual journaling, it becomes much clearer to see where bank adjustments should be done and make it easier to track any disputed charges on your monthly credit card cycles.
Faster transactions:
n today's climate of the fast-paced, high-stress retail market, retailers aim to decrease transaction time and wait times for their customers. One way in which faster transaction can be achieved is through the use of thermal printers in the self-checkout counter setup.
With more and more customers going online to buy products, it's important to process them quickly and efficiently to keep up with the demand. One way retailers can do this is by speeding up transactions and labour costs using thermal printers.
Thermal printers are a great option for processing customers because they can print at speeds of 20 mm/second. This is roughly seven times the speed of standard receipt printers. Furthermore, these printers do not require ink or ribbons.
Low maintenance:
One of the fascinating aspects of thermal printing is its relatively low maintenance costs. Traditional thermal printers come in a variety of degrees of parts integration, and this tends to correlate to their overall service life directly. These degrees are generally broken down into three broad categories, each more integrated than the next. The more integrated, the longer the expected service life. The less integrated, the shorter the expected service life.
With traditional IPDS, complex and delicate printheads need to be replaced regularly, thereby increasing the service cost of the printers. With thermal printers, these replacement components are unnecessary and, as such, can save your organisation both money and time because you no longer need to replace them.
Thermal printer bill's format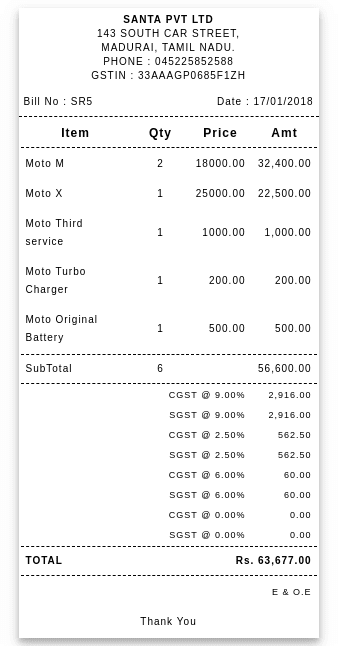 Key elements in a thermal invoice bill explained:
1) The name, address, and contact details of the seller or the company issuing the invoice should be mentioned
2)The vendee is required to input his/her name
3)The date of transaction should include details like date, month, year of transaction and time for tax-related purposes
4)The invoice should detail the goods or services sold. In the case of goods, It should mention the name of the product, the number of products sold and the SKU numbers of the products sold.
5)A clear price distribution should be mentioned. It should have a list price, the tax levied, and discount, if any
6) The source of payment should be mentioned (cash, debit card, credit card, UPI, and more)