What is a POS system?
A point of sale is a point where customers checkout with the items they have purchased. A point of sale (POS) system is the set of hardware and software that makes this transaction possible.
Every business has a different point of sale (POS) system according to its needs. For example, an online shop will have a completely computerised system while a supermarket will have a different system with multiple cash registers connected to a central computer.
There are quite a lot of other factors involved in the POS system as well. This article will discuss what point of sales systems are and how to choose the perfect system for your business.
How Does a POS System Work
A point of sale (POS) system helps a customer to complete the transaction successfully after a purchase. It also doubles up as an inventory management system. The steps involved in point of sale systems are:
A customer selects a product
The customer either physically brings a product to the checkout counter or clicks on the checkout button on their e-commerce site shopping cart.
The POS system calculates the prices
The different POS tools come together to scan and price the products. It also adds different taxes as per the applicability. It applies discounts and offers as well. Then it calculates the final amount for the purchase.
The customer pays for the purchase
The customer makes the payment using different methods such as credit cards, cash, cheques, or online payments. The POS systems, such as cash registers, credit card readers, receipt printers, etc., work in tandem with the billing software to accept the payment. Online stores do not need hardware. Their POS system consists of different software to process payments made using credit cards, online payment apps, or even cryptocurrencies.
The POS system completes the transaction
The software makes all the calculations and notifies if the customer is due to be paid. At a physical store, the customer gets the receipt. In online stores, the page moves on to a post-purchase page to collect the customer's shipping information. A POS system requires a PIN or signature of a customer to process the payment. The POS system also updates the inventory at the backend accordingly.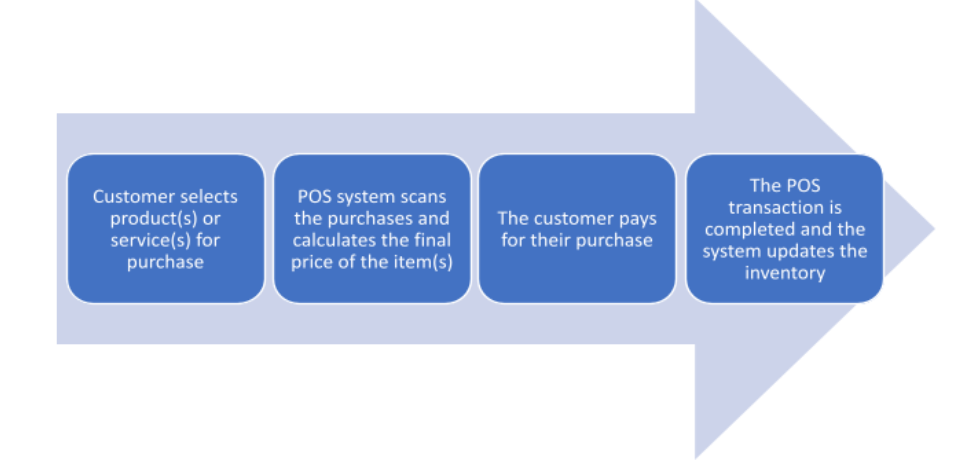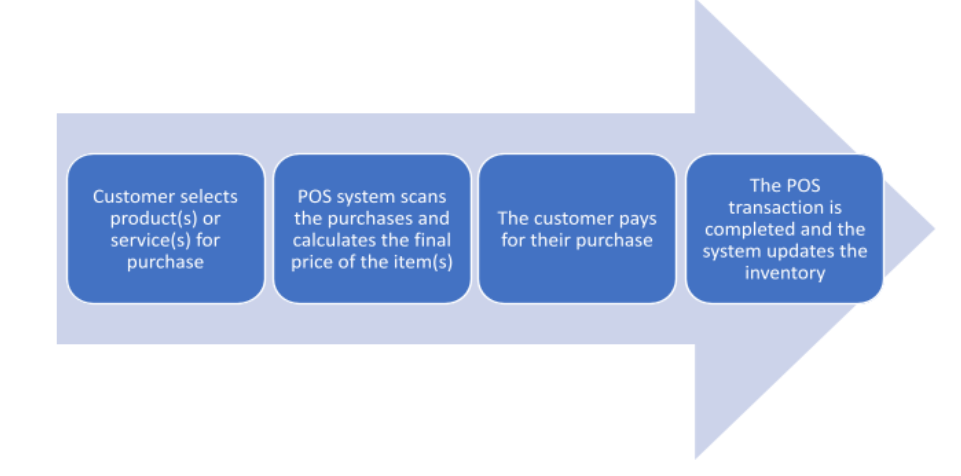 Benefits of POS System
A point of sale system has many benefits including:
Having a proper POS system can help you streamline your business. You have good control over all the daily transactions. A good POS system also helps you calculate your weekly and monthly transactions easily.
It helps manage inventory
You can easily manage your inventory when a proper POS system is in place at your business.
It helps calculate profit and loss
As you can easily track transactions over a while and also maintain your inventory, you can calculate the profits and losses your business has incurred.
A POS system helps you see trends during certain periods. For example, many people in India buy new bags and water bottles for their children around March and April. Studying these trends can help you finetune your sales processes for better profits.
A good POS system makes it possible for you to access all bills and orders accurately. Hence, drawing up annual financial statements like balance sheets or profit and loss statements becomes very easy. In addition, tax calculations are also simplified with a POS system.
The biggest success for a business is when it can cater to a customer's specific request. When you use a POS system for your business, you get an idea of what a customer likes based on their purchase history. You can recommend their favourite products, which will increase your clientele.
It accepts universal payment
Payment processing is one of a point of sales system's key functions. When a customer buys a product, the POS system gives them the option to pay for them with the following payment methods:
Cash – This is deposited in the cash register
Credit cards with magnetic strips – These payments are made when the customer swipes a credit card in the credit card machine.
Cards with chips – Credit or debit cards with chips are used to make payments by tapping on near-field communication (NFC) device
Online payments – These payments are made using mobile wallets like Google Pay. Chip card payments also are considered contactless payments.
Gift cards – Physical or digital gift cards for redeeming at the time of purchase
Transactions when the card is not present – The customer does these transactions without being physically present with their card. Online checkouts and orders over the phone are some examples of "card not present" transactions.
A good POS system helps merge multiple systems and gives the customer a great shopping experience. For example, if a customer has stored some products in their online cart, the staff at a physical store can help them pick the items that are the same as or closest to those in the cart. You can throw in different incentives for the customer such as buying online and picking up in-store (to reduce shipping costs), free shipping for select locations, free home delivery for a certain radius, and so on.
It increases your business
Once a good POS system is in place for your business, you can expand it easily according to your convenience. If you have a physical store, you can use the same system to set up a kiosk or even an online store.
It helps quick adaptation
A business is a constantly growing entity. At many points in time, you will need to make new changes. A POS system that supports your business will help you adapt to these new changes seamlessly.
Parts of a POS System
A point of sale system is made up of different hardware and software components:
Whether you have an online business, an offline one, both a small business, or a large one, computers are an integral part of your POS system. A computer simplifies your transactions and makes it easy for you to manage multiple transactions well.
Many POS hardware come with their computers. However, you can buy a computer separately and connect it with the hardware as well. However, you must remember to use the POS computer only for the POS system.
After you have purchased the computer, the next step is to put in suitable software. MyBillBook's POS is a one-stop software application for all your POS needs.
In recent times, most POS systems are linked directly to the cloud. The data can be accessed from anywhere on the Internet and is stored on remote servers.
Cloud-based POS systems are used to create seamless transactions for customers worldwide. Meanwhile, it also benefits business owners as it lets them access all the data no matter where they are. Cloud-based POS systems can be used from any device, including mobile phones and tablets.
Depending on your business, you will need certain POS hardware to complete your POS system. POS hardware includes cash registers, barcode scanners, monitors, printers, credit card scanners, keyboards, etc. You can choose from a variety of hardware according to your budget. For example, you can choose whether you want a touchscreen monitor and a handheld scanner or a regular monitor with a keyboard.
Different Types of POS Systems
There are two main types of point of sales systems:
On-premise
These POS systems require the customer to be physically present while making a payment. The checkout counters at a supermarket are the best examples of on-premise POS systems.
Cloud-based
Cloud-based POS systems do not require the customer to be present while making a payment. These systems offer flexibility to the customer by giving them the option of contactless payment. Online e-commerce shops are the best examples of cloud-based POS systems.
Cloud-based POS systems are beneficial in a few more ways. They work well with most POS hardware, and they can be installed on any device, including a smartphone. They are also less expensive than on-premise POS systems. Most importantly, they offer you the flexibility of running a physical store and an online store simultaneously.
Apart from these main categories, there are other types of point of sale (POS) systems:
Retail POS
The retail POS software and hardware is used mainly by physical stores to sell products, manage inventory, and process payments. However, if you have an online store, you can easily extend this system to the online store as well. This system comes with a POS billing software as well as other software and hardware.
Mobile POS (mPOS)
An mPOS system is cloud-based and is very flexible. It can be used anywhere. Even physical stores can use mPOS for processing their transactions. It is a great option when you do not wish to spend too much money on a POS system or you need a system for a temporary set-up.
Multichannel POS
This cloud-based POS is very useful for multiple online channels. It consolidates all the purchases made from different channels and helps you keep track of them. For example, if you sell on Amazon and also through your website and other third-party e-commerce sites, this POS will help you track the transactions easily.
Open-source POS
This POS system uses open-source software to build a code particular to the business. You can customise it according to your needs. You will have to write code yourself or outsource it.
How to Choose the Correct POS System for Your Business?
The importance of POS system in retail is very high. A retail POS system can make or break your business depending on various factors. A good POS system can support you at every step while a bad one can cause innumerable difficulties.
The basic requirements for any POS system are:
Process sales
Accept payments
Include returns and exchanges
Include discounts, credits redeeming, etc.
Offer flexible payment, purchase, and delivery options
Update inventory across all your stores in real-time
Enable you to expand your business
Good analytics
Create accurate reports
Allows access to customer order histories, loyalty programs, etc.
Allow inclusion of new hardware seamlessly
Other than these core features, a good retail POS software should have:
Integrated payment processing
Inventory management across all channels
Multiple store management
Mobile checkout
Apps
Customer relationship management and support
Different options for delivering orders
Staff management
How to Identify If a POS System is Right for You?
Even if you manage to find a POS system that works for you well in the beginning stages, you need to look out for problems in the future. A restaurant POS software might seem suitable for a supermarket but after some time, it becomes too difficult to handle. A supermarket POS software is ultimately the best for a supermarket.
These are some of the problems you may face:
Managing inventory is challenging
When you have a physical store as well as an online shop, it is necessary to include a POS system that will help you transition seamlessly between the two. It is the job of a good POS system to maintain the inventory and update it in real-time.
If your POS system is failing to update the inventory without manual intervention, it may be time for you to buy a new POS software.
If you have multiple stores, both physical and online, your POS must provide the same services to your customers at all places. If one store accepts credit cards and other doesn't, or if a customer cannot redeem their gift cards at your online shop, they will be dissatisfied, and you may lose their patronage.
If your POS system doesn't allow you the flexibility of providing the same facilities across your stores, it is time to consider new software.
Customisations are time-consuming and expensive
An open-source POS system allows you to customise the system according to your needs. For example, if you need to apply a discount on certain products before and during Diwali, your POS system must be able to reflect the changes easily.
However, if these customisations are difficult and require a lot of technical knowledge, they might not be useful to you. You must be able to do the customisations easily and they must be affordable as well.
Managing your team becomes problematic
The staff of any retail outlet is its backbone. However, managing them is one of the most difficult tasks for a business owner. You must be able to assign them shifts and rotations according to their work. You also have to manage their attendance, salaries, leaves, and so on.
A POS system allows you to check the peaks and valleys of sales throughout a workday. This will allow you to assign staff to shifts appropriately. However, if your POS falls back on the statistics, it might be time to get a new POS system.
The POS does not support certain forms of payment
Contactless payments are rapidly becoming the norm across the world. People are using cash and cards less than before and prefer to use contactless payment methods, especially after the Covid-19 outbreak. If your POS does not allow contactless payment, it might be time to change it.
The POS cannot be used on other devices
Many people use their smartphones or tablets to make payments in recent times. All business owners must include the option of mobile payment at their checkout points.
However, if your POS is not compatible with smartphones and other devices, it becomes difficult for both you and your customers to process the transaction. You may have to get a POS system that supports other devices.
You can ask your friends and associates for recommendations for the best POS software. There are various review sites where you can check the reviews of each POS system as well.
Even if a POS is good for one business, it does not mean it will be suitable for your business. You need to read case studies to decide how the POS will behave in certain circumstances.
Many POS providers offer a free trial period which you can use to decide whether the POS system works for you. Check whether you can upgrade or adjust it according to your needs. If a POS provider does not provide a free trial period, it might be a good idea to stay away.
Some providers insist on signing a contract so that you have to use their software for a certain period. This might become problematic if the POS doesn't work for you. You can look for POS systems that do not have any contract period.
Conclusion
Whether you wish to open a physical store or an online shop or both, it is always good to have a proper POS system in place. It helps you keep track of your transactions and inventory without sweating over it.
A POS system is your friend. It helps you expand your business, manage your staff, grow your clientele, and process transactions. Your retail presence is incomplete without a good POS system.
Read more articles related to POS Billing Software
Retail POS Billing Software
How to Use POS Systems in Retail Business
Supermarket POS Software
Restaurant POS Software