5 Benefits Of Having GST Compliant Business
Businesses in India need to obtain GST registration if the annual turnover from the supply of goods exceeds Rs. 40 lakhs. This threshold limit is Rs. 20 lakhs for businesses that supply services. Also, businesses can register themselves under GST even if their annual turnover does not exceed the threshold limit. This is called Voluntary Registration under GST.
Once the businesses register themselves under GST, a unique registration number – GSTIN is generated. Businesses use GSTIN to collect & pay GST on sales and claim the input tax credit on purchases. As GST registered businesses work efficiently, larger organisations tend to do business with such businesses and attract more customers. This, in turn, increases profitability and business reach.
If you are a business owner registered under GST, you will have to ensure that your business is compliant with GST rules & regulations. Otherwise, you might face difficulties in managing your business efficiently. At myBillBook, we have curated a list of 5 benefits that will help you understand why your business should be GST compliant.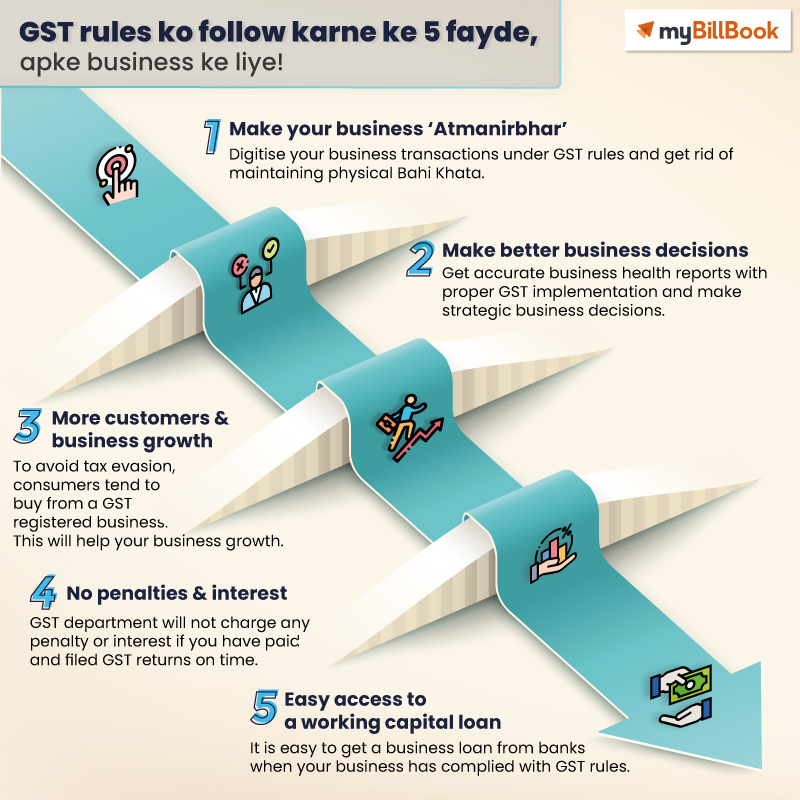 Since GST registered businesses have to comply with all the GST rules, like making accurate GST invoices, making GST payments & filing returns on time, maintaining GST reports for audit purposes, etc., you should use an automated software that helps your business with all such requirements.
myBillBook is India's best GST Billing & Accounting software. It is designed to provide a seamless, easy-to-use, and secure experience to business owners by digitising their business operations within minutes. It helps businesses create GST bills, record purchases & expenses, maintain inventory, and manage payables/receivables. Also, it provides significant business reports such as GSTR-1 & GSTR-3B report, sales ledger, party-wise ledger reports, etc. 
Download myBillBook now and make your business – A GST compliant business!