Event Management Software with Billing & Invoicing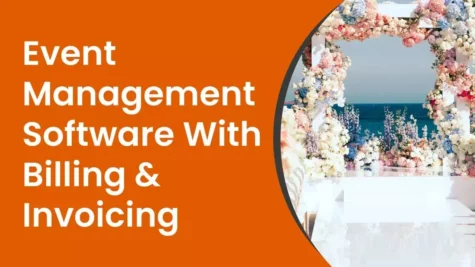 Features of Event Management Software with Billing & Invoicing
Event Staff Management: Keep your event staff organised and efficient with features like attendance tracking, scheduling, and payroll management. You can optimise your staffing levels and ensure sufficient coverage during events. You can streamline payroll processing by automatically calculating your staff's hours worked based on their attendance records.
Quotations for Event Planning: Impress potential clients with professional-looking quotes and estimates for your event management services. You can customise these documents and generate quotations in different formats with your branding and event details, making sending quotes easy and winning new business.
Accounts Receivable/Payable Management: Keep track of outstanding payments and easily manage your accounts receivable/payable. This feature helps you stay on top of billing and ensures timely client payments. You can generate invoices, track payment history, and send payment reminders for overdue balances using billing software for event planning.
Whatsapp Marketing for Event Promotion: Use WhatsApp to reach potential clients and promote your event management business. This feature enables you to send promotional messages, share photos and videos, and offer special deals and discounts to your target audience. As a result, you can build relationships with clients and reach a wider audience, leading to increased brand awareness and customer loyalty.
Inventory Management for Event Supplies: With inventory management tools, stay organised and prepared for every event. Keep track of your event equipment, decorations, and other supplies. Set up alerts for low stock levels, create purchase orders, and manage your suppliers' details. This feature helps you optimise your inventory management and ensures you have the right supplies at the right time, leading to better event planning and execution.
FAQs on Event Management Software with Billing & Invoicing
How does myBillBook billing software for event planning streamline my billing process?
You can generate GST-compliant invoices easily using myBillBook billing software. You can reduce errors and delays in billing. Additionally, you can collect payments faster using payment reminders and multiple payment options.
Can I track the delivery of my event equipment using myBillBook invoicing software?
Yes, myBillBook's event management software includes delivery challan management, which lets you track the delivery of your event equipment and ensure that everything arrives on time and in good condition.
How does myBillBook billing & invoicing software help me improve my cash flow?
With features like payment collection reminders and multiple payment options, myBillBook helps you reduce late payments and improve your cash flow, ensuring you have the resources to deliver high-quality events.
Can I access myBillBook software on the go?
Yes, myBillBook event management software is a cloud-based software that can be accessed from anywhere with an internet connection.
How does the event management software help me manage my business more efficiently?
With features like automated bookkeeping, inventory management, and CRM, myBillBook's billing software for event planning helps you manage your business more efficiently, saving you time and resources while improving your profitability.