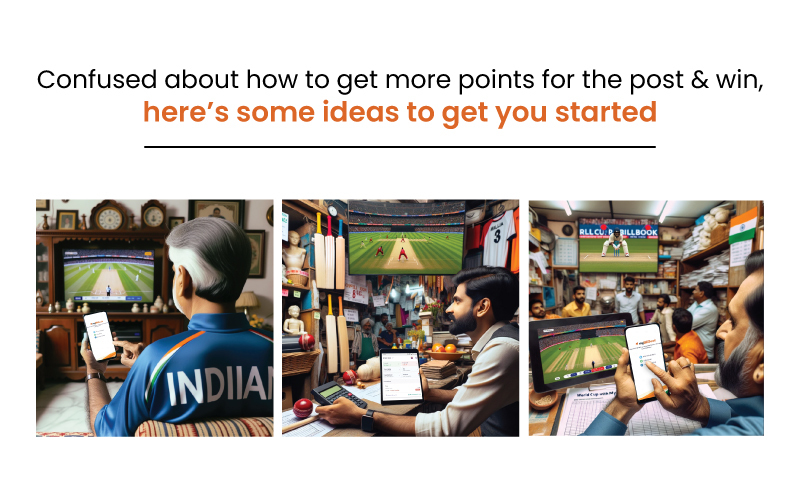 T&C*
✅  Eligibility: The Cricket World Cup 2023 Contest is open to all users who meet the participation criteria as outlined in the participation guidelines mentioned below.
📅  Participation Period: The contest begins on 14 Oct and ends on 19 Nov. All submissions must be made within this period to be considered.
🤳  Participation Criteria:
1. User must have done atleast 1 post during the participation period with #worldcupwithmyBillBook hashtag and your unique referral code mentioned in the post.
2. The post theme must be around Cricket World Cup/myBillBook to be eligible for participation.
3. Your social media accounts have to be public for post eligibility and participation.
🏏  Content Guidelines:
4. Type of eligible content can be as simple as:
Photo/Selfie
Video/Reel
Post on Instagram/Facebook/Twitter
5. The campaign hashtag (#WorldcupwithmyBillBook) must be included in the posts for the post to be eligible for the points.
6. Participants must add their unique referral code to all submitted posts.
💯  Scoring:
7. Points are awarded based on the number of posts shared (25 points per eligible post).
8. Participants earn 10 points for each referral signup using their unique referral code.
9. During an India match, all eligible posts made will receive a 2x multiplier on points earned.
🏅  Weekly Winners:
10. The top 3 participants with the highest accumulated points for each week will win the exclusive Indian team's CWC23 fan jersey with the caps.
11. Only unique users will be eligible to win in each weekly contest.
🏆  Grand Prize Winners:
12. After the contest ends, the top 3 participants with the highest overall points will receive a TV or refrigerator as the reward.
🎰  Lucky Draw:
13. 1 special lucky draw winner will be announced at the end of the contest via a live stream on the myBillBook YouTube channel.
🚫  Disqualification:
14. Participants found violating the content guidelines or engaging in fraudulent activities will be disqualified.
15. myBillBook reserves the right to disqualify any participant for any reason deemed appropriate.
⚠️  Privacy:
16. By participating in the contest, participants consent to the use of their content for promotional purposes by myBillBook.
💬  Notification of Winners:
17. Winners will be announced via myBillBook social media handles and notified via direct message for the further details required.
💥  Prize Distribution:
18. Prizes will be delivered to the winners' provided addresses.
19. Prizes are non-transferable and cannot be exchanged for cash.
☠️  Modification or Termination:
20. myBillBook reserves the right to modify, extend, or terminate the contest at its discretion without prior notice.