What is Composition Scheme under GST?
Section 10 of the GST Act describes the Composition Scheme under GST. This is a different form of taxation aimed at simplifying taxation and reducing compliance costs for small taxpayers. It allows a registered company or individual to pay tax at a fixed percentage of their gross turnover. This tax is to be charged quarterly rather than monthly at the standard rate.
The government has implemented the GST Composition Scheme for taxpayers who do not wish to register as regular taxpayers with a turnover below Rs 1.5 Crores. These taxpayers can opt to register under this scheme and pay taxes at a standard rate.
Who can and cannot opt for Composition Scheme under GST
Any manufacturer or business trader with an annual turnover of less than Rs 1.5 Crore is eligible to opt for the GST Composition Scheme. This limit would apply to restaurants.
For North-eastern states and Himachal Pradesh, the threshold limit is Rs 75 Lakh.
The GST Composition Scheme is available to service providers with a turnover of less than Rs 50 Lakh.
The composition scheme is not available to the following businesses
Ice cream, pan masala, or tobacco manufacturers
Companies that transport goods between states ( inter-state supplies)
Companies registered as a non-resident taxable person or a casual taxable person
Enterprises providing products through an e-commerce operator
GST Composition Scheme Turnover Limit
For taxpayers, the GST Composition Scheme is convenient and simple.
To facilitate business for comparatively small supply companies, an additional scheme u/S 10 of the GST Act, 2017 has been implemented under which suppliers with aggregate turnover ranging from INR 10, 00,000/INR 20, 00,000 to INR 75, 00,000/INR 1 Crore can opt to pay a fixed amount of tax on the total turnover instead of charging regular tax on the supply.
Initially, the Composition Scheme GST had a limit of Rs. 1 Crore, which meant that only businesses with a gross turnover of below Rs. 1 Crore could register for the composition levy.
In North-Eastern states and hill States like Sikkim and Himachal Pradesh, the GST Composition Turnover Limit was kept lower at Rs. 75 Lakhs per annum as the tax base is smaller than in other states in India.
The GST composition scheme limitation for states was increased to Rs. 1.5 Crore at the 32nd GST Council meeting organized on 10th January 2019. This means that business owners with a yearly turnover of up to Rs. 1.5 Crore will register under the GST composition scheme.
The North Eastern States and hills states will be subject to a lower GST Composition Scheme Turnover Limit, which has yet to be verified. This modification to the current composition scheme will take effect on 1st April 2019.
GST Composition Scheme rules
The Composition Scheme under GST requires significantly less compliance intervention and provides small businesses with a fixed GST tax rate. Therefore, companies must understand the GST Composition Scheme Rules.
The following conditions relate to composition schemes under GST:
It is not possible to claim an input tax credit.
If transactions involving the reverse charge process, the tax must be charged at the standard rate.
Different businesses must be registered collectively, if necessary, under the composition scheme.
The terms 'composition taxable person' must be shown on any notice or signboard at the place of business.
Each bill of supply must include the phrase 'composition taxable person.'
Under the scheme, a registered individual who supplies goods can provide services worth up to Rs 5 Lakh.
Documents to submit under Composition Scheme GST
Bill Of Supply:
A composition dealer is not permitted to issue tax invoices. This is because a composition dealer is not allowed to charge tax to their clients. They would pay tax from their funds. That is why, rather than issuing a tax invoice, a bill of supply is issued. Additionally, the dealer's Bill of Supply should state a "composition taxable person, ineligible to collect tax on supplies."
Pros and cons of GST Composition Scheme
The primary advantages of the GST Composition Scheme:
Businesses benefit from increased liquidity as a result of the reduced GST payable to the government.
Businesses benefit from reduced compliance standards (recordkeeping, filing returns, and issuing invoices) under this scheme. Additionally, this allows dealers to pay more attention to core business operations.
When businesses choose this option, they will benefit from a significantly reduced tax liability. The primary benefit of this is for entrepreneurs and smaller companies that often experience cash flow limitations. Most enterprises that do not exceed Rs 1.5 Crore in revenue are less likely to pay taxes. The composition scheme has proven that more startups will prosper in an environment that has become more responsive to their plight.
Before praising a proposal wholeheartedly, it is essential to understand its limitations, as is the case for most items. The following are some of the composition scheme's disadvantages:
Since inter-state supplies are not allowed, businesses that register under this system have a limited territory in which to function.
Companies are prohibited from supplying exempted products.
Companies that opt-in for this scheme are not eligible to receive input tax credits (taxes paid on purchases).
Regular Scheme VS Composition Scheme under GST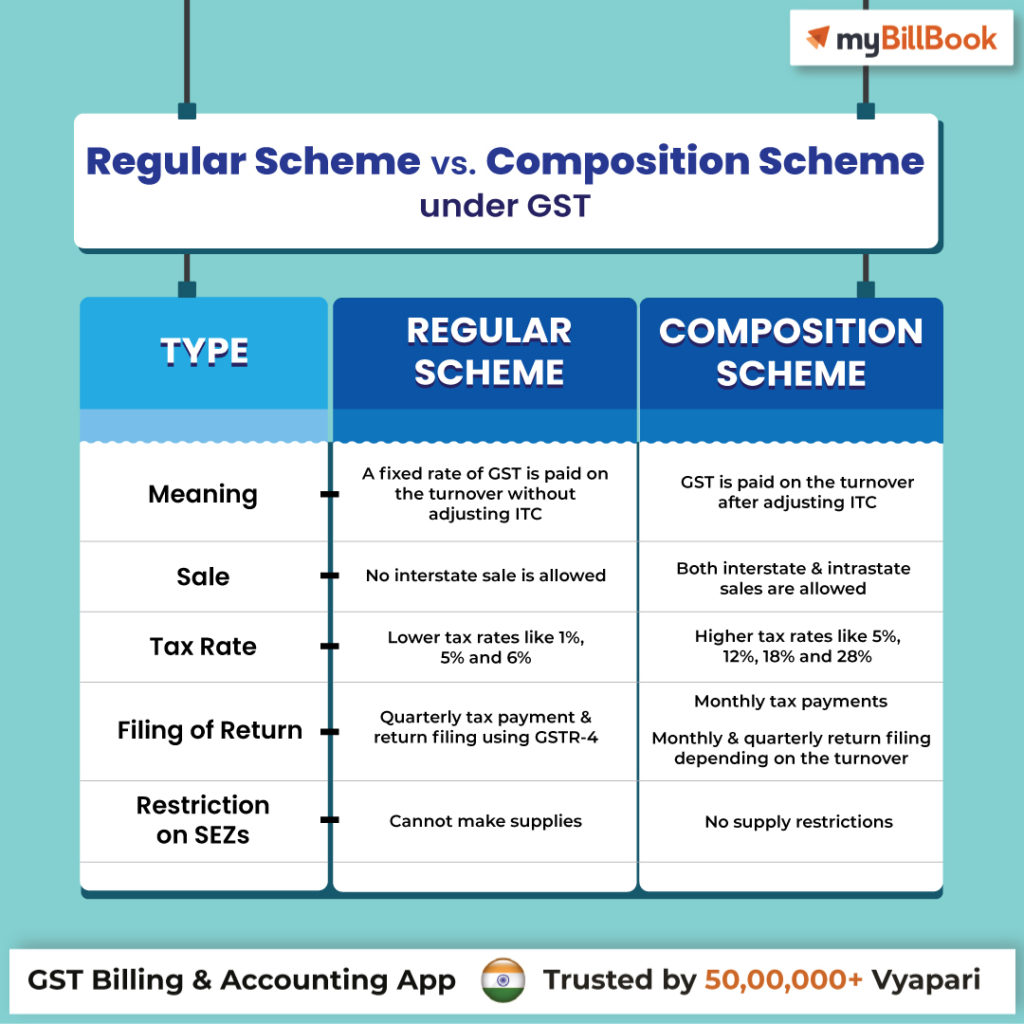 How to use myBillBook to fill GST Composition Scheme Bill
It is not rocket science and very simple if you use the myBillBook app to generate an invoice under GST Composition Scheme. Follow the simple steps given below.
Provide the Name, contact details, including address and the supplier's GSTIN
Then a serial number with 1 or more series that consist of numbers, alphabets, and n special characters individual for every financial year
Issued date
Recipients Name, contact details including address GSTIN
Goods description
FAQs on Composition Scheme under GST
Are Composition Dealers Eligible to Claim Input Tax Credits?
No, the Composition Dealer is not eligible to receive GST input tax credit on purchases.
Is it possible for a Composition Dealer to issue Tax Invoices?
A Composition Dealer must issue a Bill of Supply. They are not allowed to issue tax invoices. This is because the tax must be paid out of pocket by the dealer. The GST cannot be recovered from customers by a composition dealer.
How do I convert a regular GST scheme to a composition scheme?
Any taxpayer who is registered as a regular taxpayer under GST must submit applications to qualify for Composition Levy in Form GST-CMP-02 to the GST Portal before starting the financial year for which the previous section is exercised.
How do I proceed if I am enrolled as a registered taxpayer?
The following steps are taken on the GST portal to qualify for the composition levy:
To use the Taxpayers' Interface, you must first log in.
Navigate to Services > Registration > Composition Levy Application
Complete the form according to the rules specified in the form description and submits.
Is it possible to save the Application to Opt-Out of the Composition Levy?
Yes, the submission Application can be kept up to 15 days from the initiation date after the system purges it.
My Saved Applications is a feature of the Taxpayers' Interface that allows you to access your saved applications.
Can I opt for the Composition Levy if I've worked in the service industry?
Yes, from FY 2019-20 onwards, you will opt to pay the Composition Levy, even if your business is engaged in services.
Is it possible for a dealer working in interstate supplies to choose the Composition Scheme under GST?
Only dealers who do intra-state supplies are liable for the Composition Scheme under GST. If a dealer works in interstate supplies, he or she must opt-out of the scheme.