India's No.1

GST Billing

and

Accounting
Software
Impress customers with professional invoices
Made with ❤️ in India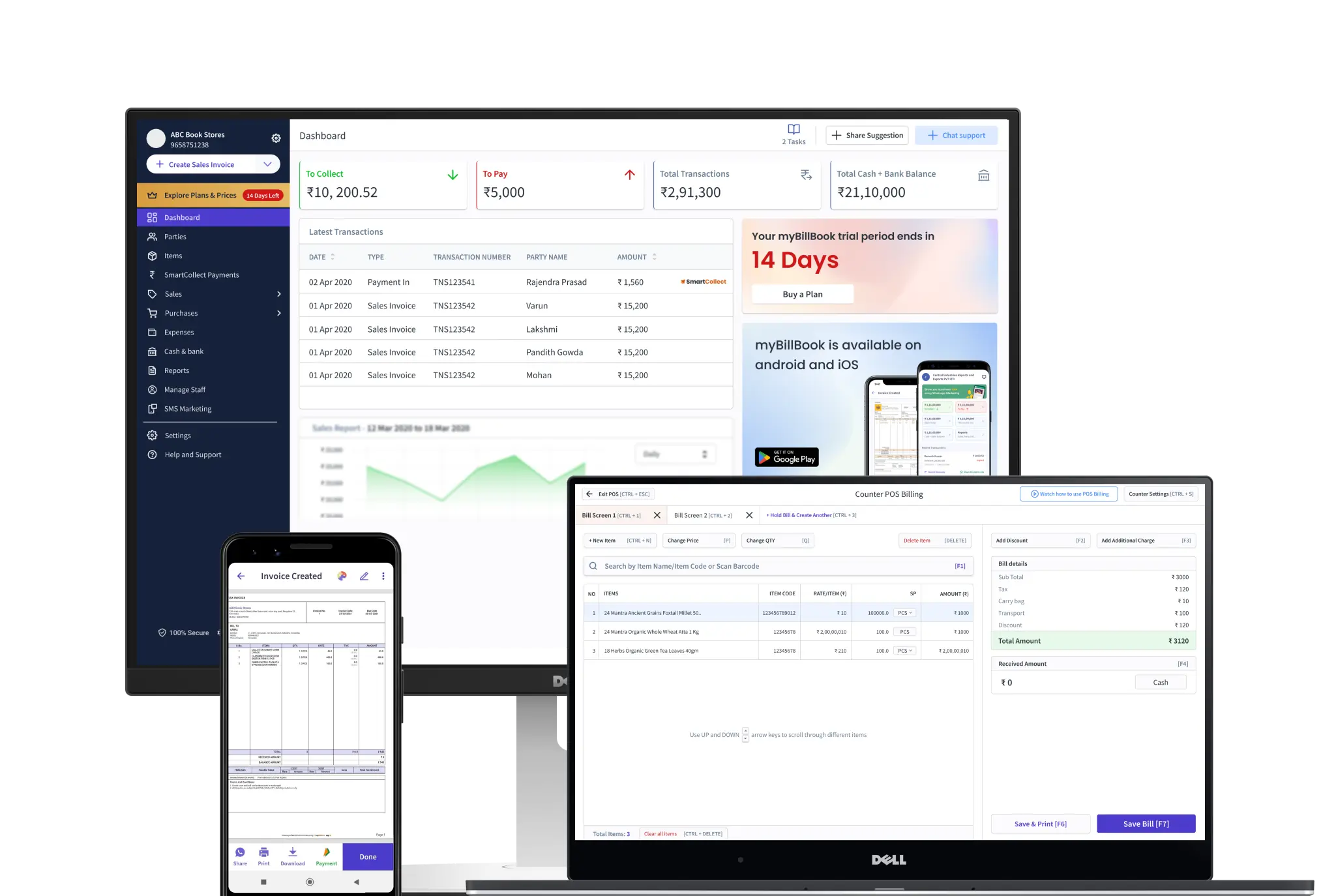 60 Lakh+
Businesses Trust us
7000+
Cities & Towns in India
4.7

Rating on Google Play
Create and Print

Professional GST

or

Non-GST Bills

Fully customizable bills as per your business needs

Add Custom fields such as Vehicle No, E-way bill, etc.

Choose your own invoice formats

Print according to your needs

Regular printer supported (A4 & A5)

Thermal Printer supported (2 inch & 3 inch)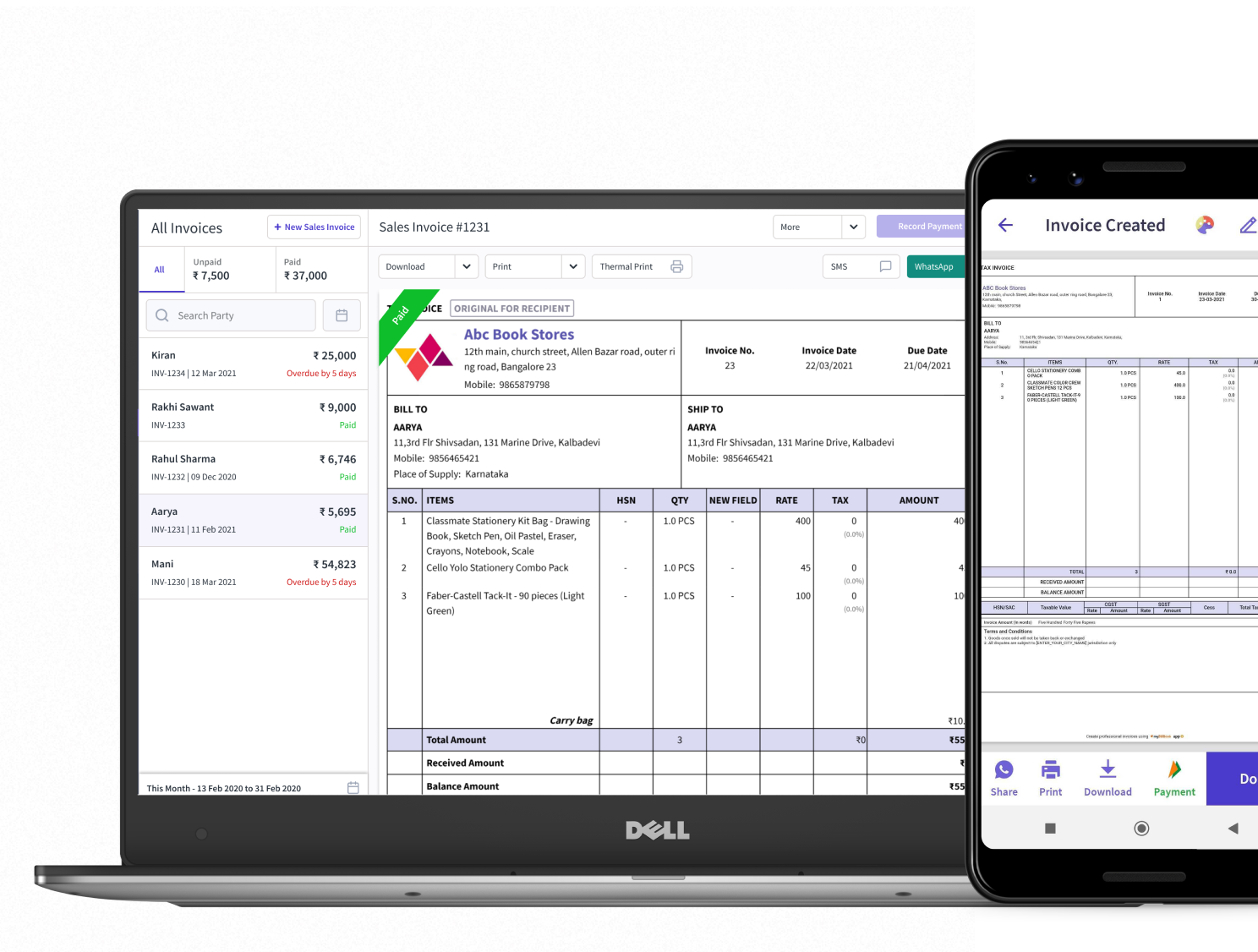 Why

use myBillBook?

GST Invoicing/Billing
Make professional GST & non-GST bills/invoices & share them with your customers
myBillBook is a billing software that helps businesses create professional bills & share them with the customers on WhatsApp within a few seconds. myBillBook allows customers to do easy GST billing. They can make customised GST bills & print them using regular and thermal printers. There are 10+ GST bill or GST invoice formats available to choose from. With this billing software, businesses can track their sales & purchases accurately.
Read

Manage Your Inventory
Track Inventory with features such as low stock reminders, item categories & stock adjustment
myBillBook, India's no.1 billing & invoicing software, has a highly effective inventory management system that helps business owners track the tiniest details of their stock. They can track all inventory using the software, including batch number, expiry date, manufacturing date, slot number, and other details. It ensures that they do not miss out on revenue due to no stock.
Read

Accounting Made Easy
Record & track all business transactions such as sales, purchases, quotations, cash & bank transactions, etc.
myBillBook is free online accounting software that helps small business owners manage their finances. The owners can track their expenses, record sales & purchases, send payment reminders, and manage accounts payable/receivable using this billing software. In addition, businesses can track their progress and keep a check on the periodic budgets.
Read

Collect Payments Faster
Send payment reminders to your parties/customers through WhatsApp & collect payments digitally
Business owners can share bills/invoices and send payment reminders to their customers/clients/parties on WhatsApp using myBillBook and collect payments faster. This billing app helps businesses to collect digital payments via NEFT, IMPS, UPI, etc. seamlessly. Moreover, this feature also improves the cash flow and reduces the average credit period of the enterprises.
Read

Analyse business reports
Manage your business with 20+ reports like GST reports, P&L, Stock & Party Ledger reports
Business owners can download 20+ business reports from this GST billing software. These reports can be used to make strategic decisions & improve operational efficiency. Owners can access detailed data from anywhere & at any time and never miss out on important due dates. These reports can be shared with CAs, accountants, clients directly via WhatsApp or emails.
Read

Delivery Challan
Create a delivery challan using the billing software & share it with the customers & transporters
Delivery Challan is a safe and secure way to ensure that your goods have reached your customers safely. It is a tamper-proof document that is signed by both the consignor and the consignee to acknowledge the delivery of goods. We offer a variety of customisable options to suit your needs, including a signed delivery receipt, a signature from the customer on items they have received.
Read

Generate E-Way bills
Generate, download & share bulk e-way bills from anywhere and at anytime
Business owners can create e-way bills from this online billing software. There is no restriction on the number of E-Way bills that can be generated. Moreover, owners can share these bills with the clients/transporters via WhatsApp or email. This billing app can generate 4 types of E-Way bills - regular, Bill to ship to, bill from dispatch from & a combination of the last 2.
Read

Send Quotations & Estimates
Create & send quotations/estimates to your clients or customer directly from myBillBook
With this billing app, business owners can create quotations, estimates & GST invoices and share them easily. They can also convert estimates into GST bills using myBillBook billing software and send them on WhatsApp. Users can make accurate & instant estimates & quotes for their prospective suppliers & customers. This will help them save time & increase efficiency.
Read

Manage Accounts Receivable/Payable
Keep track of all account receivables & payables with the advanced billing software
With the help of GST billing software, business owners can manage & keep track of their complete finances. The invoicing software allows users to record all cash/bank/credit transactions and track growth. In addition, this billing app tracks the money 'you have to get' and the money 'you have to pay'. It also sends automated payment reminders to customers on due dates.
Read
Sync data seamlessly between Computer & Mobile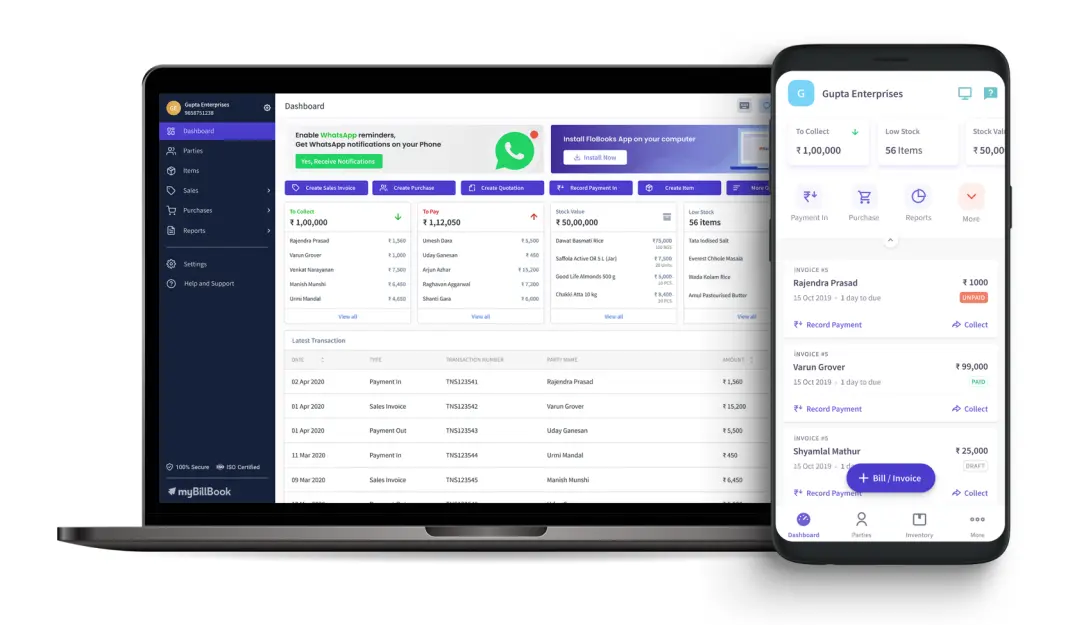 For Retailers - Faster Billing and POS

Make invoices with the counter system on myBillBook app
Digitise all day-to-day business transactions
Track & manage business inventory accurately
Take thermal printouts
For Wholesalers and Distributors

Manage customer outstandings & send payment reminders
Share invoices via SMS and WhatsApp
Manage inventory better with low stock alerts & categories
Create customised invoices according to the business needs
Send customised greeting cards with your company logo
Business Reports for everyone

Analyse 14+ business reports and make strategic decisions
Send rate list, quotations to your customers/clients
Digitise your business operations & grow 2X
Get ahead of the competition with myBillBook
Enhance business presence with professionalism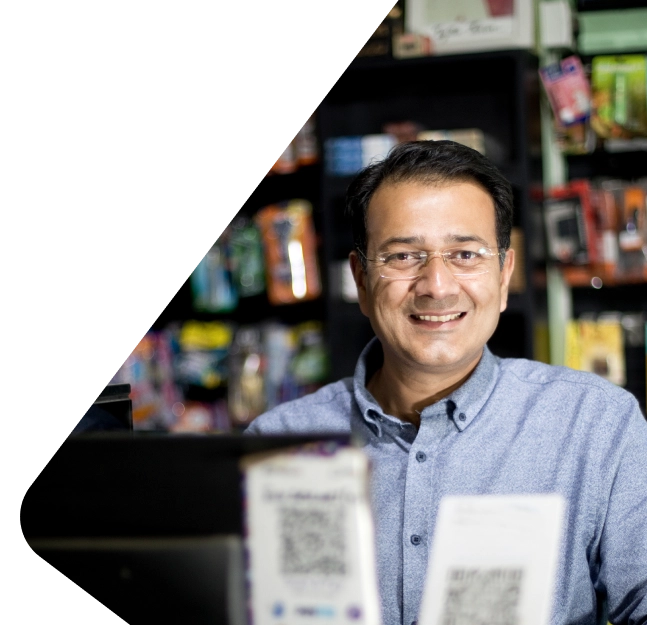 What
our users
say about us
Businesses from all industries love using myBillBook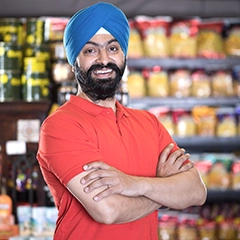 FMCG Wholesaler
"With mobile app, I can manage my billing and stock when I'm on the field. Getting credit payment is 2x faster with use of payment reminders and pay with UPI option. Now I have more money to grow my business. Also, I can give app to anyone to manage, because it is so easy unlike other billing software. Best app myBillBook - Make In India!
- Gurukripa Traders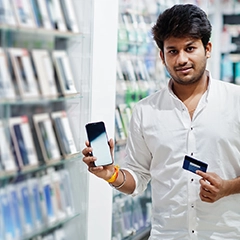 Electronics Distributor
"Very easy to use, I have given the app to all my salesmen for entry. myBillBook team added option for IMEI and Product code for every item in invoice now. I moved all my Tally data to myBillBook, made my business easier.
- JLB Technologies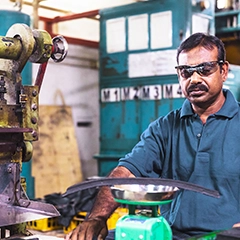 Hardware and Sanitary
"Inventory feature has me saved a lot of hours in maintaining my 1000+ list of items. Now there's less counting and better accounting with myBillBook
- Ashiyana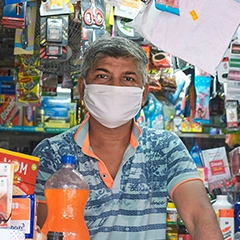 Kirana Store
"Made my business digital by moving from pen and paper to myBillBook. Counter feature is easy to use and saves me time. Thermal printing is good for retail shop. Online store is helping me get more and bigger orders.
- Kailash Kirana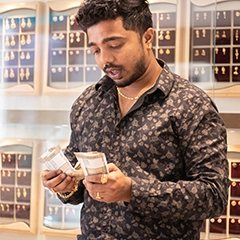 Jewellery Store
"myBillBook has made my business easier to manage. Invoice customisation settings let me add columns like making charges, weight & wastage to my GST Invoices. Inventory is easily managed by recording of item returns and with units for gold, silver, and diamonds
- Swarn Mandir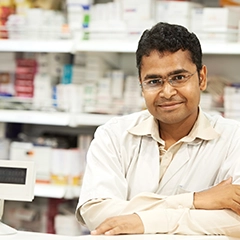 Pharma Store
"Professional Billing with option to add Batch number, expiry date & drug license number. I have used other software for my Vyapaar but haven't ever seen inventory management so easy. Nice for medical business.
- Shree Ji Medicals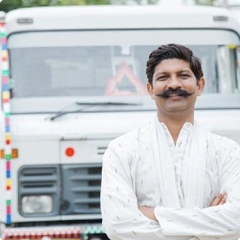 Transportation
"Good and simple app. Now we mention Vehicle No, Driver Contact, total load and number of items in a single invoice, said goodbye to paper bills. Option for Duplicate and Triplicate also added by myBillBook team, thank you!
- Navrang Transport
Take your business
Online
Setup your online store, create digital catalogues and grow your business by selling via WhatsApp and Facebook.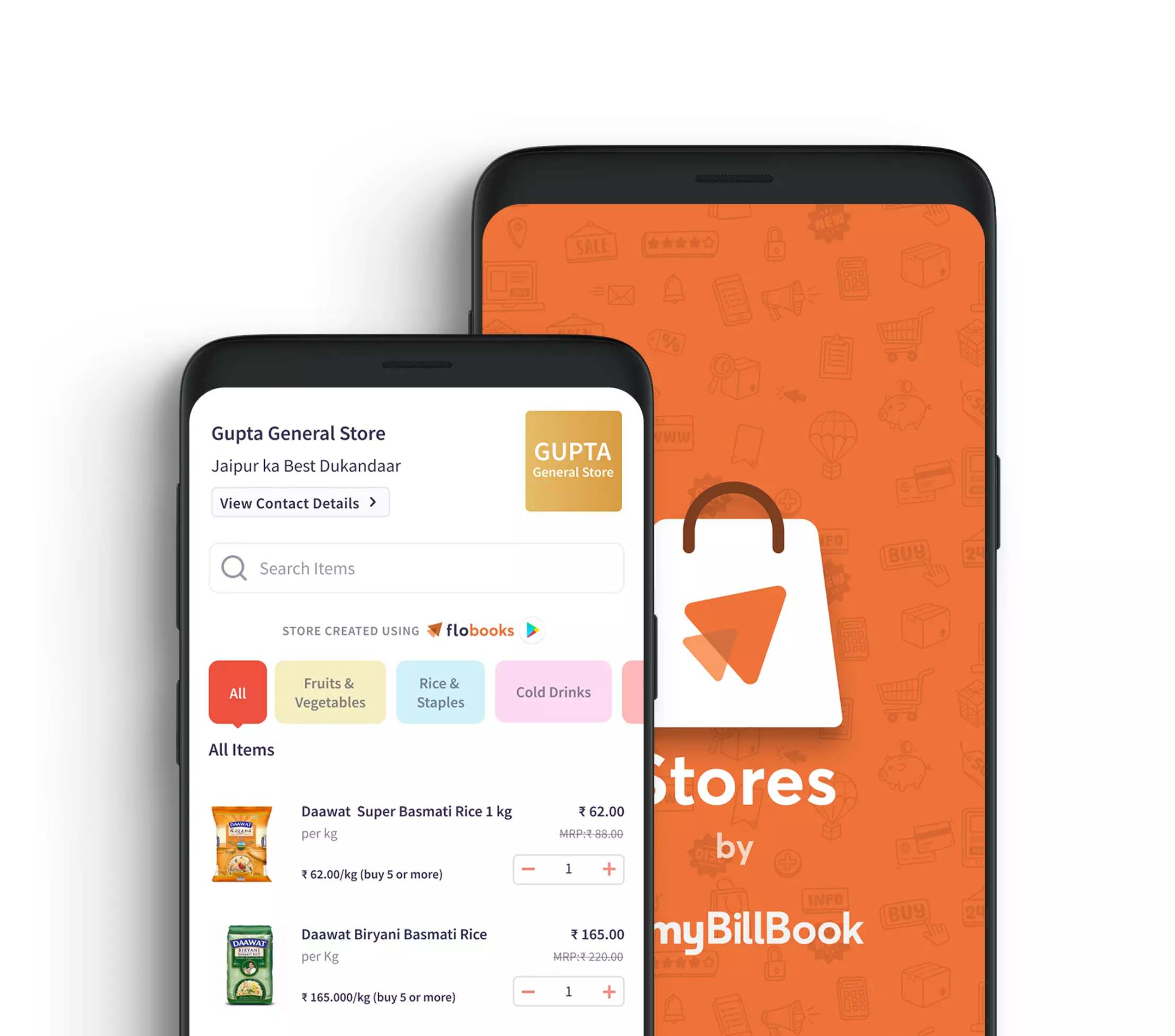 Benefits

of using myBillBook

Safe and Secure
All data is 100% secure with us, always stored in an encrypted and anonymised format
This GST billing and accounting software has been designed with utmost care. All the business data is 100% encrypted and stored anonymised to prevent hackers, malware, and viruses. Unlike many other software providers, we go the extra mile to ensure you stay safe while using our products. This GST Invoicing & Accounting Software app allows you to secure your business-related data easily.
Read

Automatic Backup
All the business-related data is automatically backed up, just like WhatsApp
All the data is backed up by this GST invoicing & accounting software. Everything is stored in encrypted form and can only be accessed by the owners or assigned professionals. In addition, this billing app regularly backs up your data, i.e., your data is secure, even if you lose or change your mobile phone. You can just log in & restore your data.
Read

Multiple Language Support
myBillBook billing software currently supports 4 languages - English, Hindi, Tamil & Gujarati
Our billing app helps small businesses manage their business transactions in multiple languages. With myBillBook, business owners can track sales and expenses on a dashboard, send invoices in just a few clicks via Whatsapp, and access 20+ business reports at any time. This billing & accounting software will be soon available in other languages.
Read

Offline Billing
Create & edit the invoices/bills even when not connected to the internet
Users can create GST & non-GST bills in offline mode, i.e. they can make & edit bills when there is no internet connection. With the real-time sync feature, all the offline invoice data will be saved once the desktop or mobile is connected to the internet. Moreover, you can create delivery challan & quotations/estimates in the offline mode.
Read

Whatsapp Support
Get answers to the issues from our superfast support team on WhatsApp
Users can reach out to us on WhatsApp at any time, and our excellent support team will resolve their queries. They can WhatsApp us on +91 740041 7400 for any questions related to this GST billing & accounting software. Alternatively, business owners can chat with us online & get their queries resolved quickly. Our support team is 24*7 available for all users.
Read

Easy Data Transfer
Transfer parties and items from other software such as Vyapaar & Tally with easy
Business owners can quickly transfer their accounts from Vyapar, Tally, Marg, etc., in no time. This billing software is designed to help businesses manage their day-to-day transactions with ease. In addition, our sales executive helps users transfer party ledger, items library, accounts balance, etc., from other accounting software available in the market.
Read

Item Library
Quickly add items from our standard library of 1 Lakh FMCG & Pharma items
myBillBook billing software has a standard item library of 1 lakh+ FMCG & Pharma items. You can quickly create your inventory list from this library and start creating professional bills from this billing app. With this support, you can save a lot of time and chances of pricing errors. If you have the inventory list ready, you can upload it directly & start billing.
Read

Get Orders Online
Create custom mobile app and website for the business & increase sales
Business owners can create a custom online store, add inventory, take orders, and digitally execute their operations. This GST billing software allows businesses to create a mobile & desktop app and take online orders. This feature helps small business owners to expand their geographical reach and increase sales exponentially.
Read

Send Business Card & Greetings
Create your professional identity by sharing business cards and greetings with your business logo
Business owners can create professional business cards & share them on WhatsApp with clients/customers/suppliers. This feature helps owners to create a professional identity. Moreover, they can share customised greetings with their business friends & family using this billing app & make them feel special. Around 3.8 lakh+ greetings have been shared through this online billing software to date.
Read
Common Queries
What is billing and invoicing software?

Billing and invoicing software help businesses streamline & automate their day-to-day operations. myBillBook is India's no.1 GST Billing & Accounting software designed to aid small & medium business owners run their operations from anywhere & anytime. Business owners can create customised GST invoices & non-GST invoices within seconds and share them on WhatsApp with their clients. In addition, one can monitor unpaid invoices and send payment reminders from the myBillBook app.
Which billing software is best for small businesses?

myBillBook is a billing software that helps small business owners manage their business operations using mobile & desktop. This software helps business owners to streamline their business processes, which saves a lot of time and monetary resources. It is the most affordable billing software available in the market for SMB owners.
What is the difference between invoices and bills?

Invoices and bills are the same but different depending on the perspective. An invoice is sent to a customer, and upon receipt, it is termed as a bill. A business owner requests money against an invoice, and a customer sends money against a bill/receipt.
Are Invoices and bills the same?

Invoices and bills serve the same purpose but are different in some ways. An invoice must contain an invoice number, which may or may not be in the case of a bill. Invoices include more detailed information about products or services, while bills are less detailed and only give an overview of a transaction.
What are the top features of billing software?

Provides a secure platform for SMB owners to record day-to-day transactions & track business performance on the go
Create customised & professional GST & non-GST bills, record purchases & expenses, maintain stock and manage payables/ receivables directly from mobile phones or computers
Sends automated payment reminders to customers & help businesses collect payments faster
Tracks & manages inventory using features like stock adjustment, low stock reminders, etc.
Helps SMBs to take strategic decisions using 20+ business reports like GST reports, P&L reports, party ledger, etc.
Available in 4 languages - English, Hindi, Gujarati & Tamil
Get 24*7 support for queries related to the app functionality via chat, call or WhatsApp
100% safe & secure environment. All the transactions are encrypted and stored in best-in-class secure cloud servers
What is the difference between a tax invoice and an invoice?

A tax invoice is different from a regular invoice because it includes details like GST and VAT. Tax invoices are often used for reporting purposes while invoices can be used for both financial reporting and claiming a tax credit; however, you need to use a GST invoice to claim the credit.
Is myBillBook good for small businesses?

myBillBook is the best billing software designed to help small business owners run their business processes easily. It is an ideal software for businesses where invoicing is one of the core business activities. Also, businesses looking to digitise their operations to understand their financial position better can use it. It helps them create bills (GST & non-GST), record purchases & expenses, maintain inventory and manage payables/ receivables directly from their mobile phones or computers. Also, the app generates critical business reports that help business owners make effective business decisions.
What is the benefit of billing software?

Professional billing software can help you in many ways. Some are as follows:
1. Eliminate redundant entries and save time by using professional billing software to create GST invoices & non-GST invoices
2. Digitise, organise and manage your business properly
3. Accept online digital payments seamlessly
How does billing software work?

Billing software helps businesses reduce a lot of manual efforts that also decreases time spent on managing operations using pen-paper. With billing software, business owners can manage their day-to-day operations easily & track their growth on a regular basis.
What is the difference between invoice and receipt?

Invoices are issued prior to payment, whereas receipts are issued after. Invoices act as a request for payment, and receipts act as proof of payment.
Is a bill an invoice?

An invoice is a document issued by a business to its client/customer, whereas a bill is issued by the client to the business. An invoice will typically detail the amount owed by the client, outlining what is being purchased, while a bill will detail what has been provided in return for payment.
Associations & Memberships